Tadashi Yamamoto
Tadashi Yamamoto

President, Japan Center for International Exchange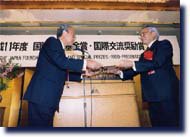 It is a great honor and privilege to be the recipient of the Japan Foundation Special Award. I wish to extend my deepest gratitude to President Fujii and the officials and staff of the Japan Foundation for their generosity. In fact, this is the second time that I have received the Japan Foundation Special Award. The first occasion was in 1974, but it was an award to the Japan Center for International Exchange as an institution. As I understand it, the award this time is being presented to me as an individual, and I am deeply moved by this special honor.
The award that JCIE received some 25 years ago came as a surprise, given that our organization was only four years old and was still in its early formative stage. Even to this day, I wonder whether our organization was truly worthy of such a prestigious award. Nevertheless, the award was a boon to our then fledgling organization as it provided us with much-needed social recognition, thus facilitating our activities considerably. Today, as I witness many emerging nonprofit organizations struggling to survive, I look back on that first award of 25 years ago with profound appreciation. For that reason, I feel particularly humbled to receive this award myself, and hope that I can find a way to respond to your kindness and expectations. Even now, JCIE is still in the process of development, and at a time when I have been feeling a sense of crisis to increase our efforts, this award provides me with a wonderful encouragement. At the same time, the award offers me an opportunity to reflect upon the inter-relationship between my personal development and that of the institution.
In my acceptance speech at the ceremony 25 years ago, I pledged that I would make every effort to strengthen my professional competence in order to be more effective in my future endeavors, drawing on a maxim of Mr. Shigeharu Matsumoto, a founder of the International House of Japan and a forerunner in the field of international exchange in Japan, who said that "international exchange starts with people and ends with people." In the present day context, however, Mr. Matsumoto's famous maxim has to be understood in the proper perspective. While the role of individuals is clearly critical, it should be viewed in the framework of the important role now being played by nonprofit and nongovernmental organizations in promoting international exchange. The ability of these nonprofit organizations to promote such public goods as "international exchange" was at the heart of the recent debate over the NPO Law.
The rationale for a nation to authorize incorporation of these nonprofit organizations and provide them with special privileges is the belief that they can be entrusted to pursue public goods effectively. I believe that one reason that I have been allowed to be involved in international exchange over a long period of time is that I have been able to operate within the framework of an organization that has gained public trust. Otherwise, I simply could not have received so much support from so many people. Nor could I have been effective if it had not been for my close associates who have joined me in building this institution, and who have worked very closely with me over the years. I wish to emphasize that international exchange activities cannot be promoted in a sustained manner and cannot be broadened without the institutional framework of nonprofit organizations.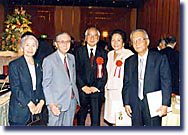 On the other hand, international exchange cannot be promoted merely by mechanical connections between organizations. Cooperation and a relationship built on trust between individuals are the prerequisites for effective international exchange activities. In that sense, these activities "begin with people and end with people." It is only nonprofit organizations comprised of people with a strong commitment and professional competence that can undertake productive exchange activities. In this sense, what pleases me most on the occasion of having been chosen to receive the Japan Foundation Special Award is the fact that my colleagues at JCIE are so delighted for me. My honor is their honor.
My parents always taught me that on such joyous occasions I should "count my blessings," as they say in English, and that I should reflect on the people who have given so much to bring me that happiness. If I start counting my blessings and listing them up, it would be a long list indeed. There are many to whom I am deeply indebted, some of whom are no longer in this world. I wish to take this occasion to express my deep gratitude to all of those who have helped me over these many years. The only way in which I can repay them is to make further efforts not only for JCIE, but for the overall enhancement of international exchange, and for the further advancement of the nonprofit sector in Japan.