The Japan Foundation Awards / Special Prizes (1999) Ceremony and Reception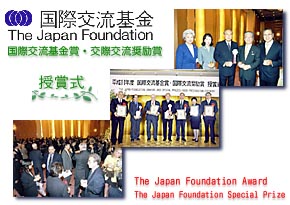 The 1999 ceremony for The Japan Foundation Awards and prizes was held at a the ANA Hotel in Tokyo at 11am on October 7 (Thurs). In conjunction with the ceremony, a reception was held. More than 350 people, including US Ambassador Folley and Japanese Economic Planning Agency Chief Sakaiya, attended.
After a greeting by Japan Foundation President Fujii, the awardees was introduced and the reason for their choice was explained by Chairman of the Selection Committee Shuji Takashina, Director-General of the National Museum of Western Art. Then, Japan Foundation President Fujii presented the award certificates and documents to the awardees. This was followed by speeches given by the recipients of the awards and prizes concerning their relationship with Japan to date and their thoughts on international exchange.
Introduction of the Recipients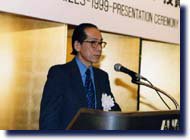 After the ceremony, a reception was held in a different room, beginning at noon, in a warm and celebratory mood where thoughts and good wishes was exchanged in a circle of people involved in international exchange that included the awardees and their friends and associates.
Shuji Takashina
Chairman of the Selection Committee
Director-General of the National Museum of Western Art Introduction of the Recipients
Speach of Acceptance
The Japan Foundation
Award
The Japan Foundation
Special Prize

Irene Y.Hirano

Executive Director and President

Japanese American National Museum