Yuzo Kondo
Yuzo Kondo

Chairman of the Daido Life Foundation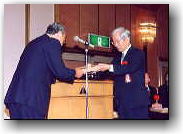 The unexpected receipt of the Japan Foundation Special Prize is a great honor indeed, and on behalf of the Daido Life Foundation, I would like to express our deep gratitude to the Japan Foundation and everyone else involved.

The specific subject of this award is our project to introduce to Japan modern works of literature from our Asian neighbors, so close and yet so far, in order to improve mutual understanding between Japan and other Asian countries.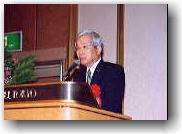 Since the Daido Life Foundation was founded, we have translated and published a variety of works from nine countries, and have donated around 70,000 volumes to libraries all over Japan, which we believe have attracted a wide readership.

On a parallel track, we have also translated Japanese cultural and socio-economic works into various other Asian languages, and have published and distributed these around Asia, endeavoring to increase our neighbors' understanding of Japan.

While developing understanding through literary culture may seem a roundabout approach, we believe that engaging in this project over the long-term will build mutual understanding between Japan and its regional neighbors on the grassroots level.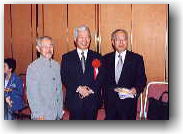 Another project that may have attracted acclaim is our presentation of the Daido Life Foundation Awards for Area Studies as a means of encouraging scholarship. Area research is a broad scholarly endeavor that is not restricted to a single field of specialty, but offers a basis for understanding the entire world. This year marks the 15th presentation of the Awards, publicly honoring academic research or persons associated with this.

The Daido Life Foundation was established in 1985 as a small group supported by a single company. It is greatly rewarding to have been recognized by the Japan Foundation Special Prize, which has renewed our resolve to continue further with our efforts. Thank you very much.