Speech by Warsaw University, Oriental Studies Institute, Department of Japanese and Korean Studies
Speech by Warsaw University, Oriental Studies Institute, Department of Japanese and Korean Studies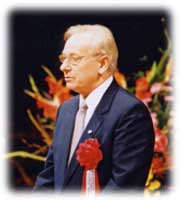 As a representative of the Department of Japanese and Korean Studies of the Oriental Studies Institute of Warsaw University, I wish to express our deepest gratitude for this Japan Foundation Special Prize.
In Poland today there are three universities where degrees are offered in Japanese studies, in the fields of Japanese literature and linguistics. Warsaw University has the oldest tradition of Japanese-language education (since 1919) in its Japanology department (officially known as the Department of Japanese and Korean Studies). The other two Japanese studies departments are at Jagiellonian University in Krakow and the Adam Mikiewicz University in the city of Poznan in western Poland, which is famous for its international book fair. The Japanese studies departments of both of these universities were established fifteen years ago.
These three centers of research in Japanese studies cooperate mutually in the promotion of Japanese-language education, which is the basis for research into Japanese civilization and culture. Since these academic facilities are comprehensively interdependent, particularly in the obtaining of a Ph.D., this prize will serve as an encouragement to the further development of Japan studies, not only at Warsaw University, but also at the universities in Krakow and Poznan as well.
What I refer to as the Department of Japanese and Korean Studies of Warsaw University is a Japanese culture department that pursues a multifaceted view of culture that includes the language, literature, history, ideology, and performing arts of Japan, while at the same time it is a research department that also examines the language and literature of Korea and China, which have a deep relationship with the culture of Japan.
I will refrain from going into the details of the history of Japanese-language education at Warsaw University at this time, concentrating, instead, on our department's international relationships.
To begin with, an international conference on the theme of Japan was held at Warsaw University in 1980. It deserves particular attention as the first conference in a formerly socialist nation in which Japanologists from both East and West participated together. Twenty-three years ago, under the cooperation of Tokai University, and thanks to aid from the Japan Foundation, Eastern Europe's most renowned Japanologist had the opportunity to pursue the research theme of "People and Society in Present-day Japan."
Again in 1994, an international conference was held in celebration of the 75th anniversary of Japanese-language education at Warsaw University. The cooperation of such Japanese universities as the University of Tokyo was obtained for the holding of this conference.

And we are eagerly looking forward to the gathering of numerous Japanologists in 2003 at our Department of Japanese and Korean Studies for the 10th regular academic conference of the European Association for Japanese Studies at Warsaw University. A large number of scholars not only from Europe, but from Japan and America as well, are slated to read papers on the results of their research, and it is expected that they will inquire into the prospects for the future of Japanese studies. I sincerely hope that you will all come and participate in this Warsaw 2003 Conference.
Prior to our receiving of this prize, Their Majesties, the Emperor and Empress paid a visit to Warsaw University on July 12 this year. This was the greatest possible honor for us. Their visit served as an incentive for further development of research into Japanese culture, and we and our students were deeply moved by it.
The Japanese studies conference in Warsaw next year is of extreme importance, but I feel that the events in celebration of the 30th anniversary of the Japan Foundation, which has played such an enormous role in exchange between Japan and the other countries of the world in terms of Japanese studies, is of even greater import. Without aid from the Japan Foundation, development of Japanese studies would be difficult indeed.
Looking back over the past, it is obvious that the Japan Foundation has made an enormous contribution to the dissemination of Japanese studies and Japanese-language education in Poland. This has been of the utmost significance in the dissemination of Japanese culture in terms of such programs as aid for books, dispatch of teachers, research in Japan, publication assistance, and academic conferences on Japan.
I wish to express my deepest gratitude for all these types of aid, as I humbly accept this Special Prize as a representative of the Department of Japanese and Korean Studies of the Oriental Studies Institute of Warsaw University.
Thank you very much.