JFIC EventExhibition: "Pombo in Japan" - International Collaboration for a Picture Book -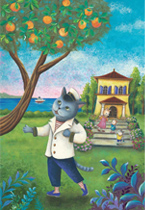 The Japan Foundation and the Embassy of Colombia in Japan will co-organize an exhibition, "Pombo in Japan", under a project of international collaboration for a picture book.
Exhibition Outline
Duration of the exhibition

Tuesday, December 17, 2013 – Tuesday, January 14, 2014

Closed on Saturday, Sunday, National holidays, and from December 28, 2013 to January 5, 2014.

Time: 10:00 AM – 6:00 PM

Venue

The Japan Foundation JFIC lounge

Address: 4-4-1 Yotsuya, Shinjuku-ku, Tokyo 160-0004 Access

Organizer
Embassy of Colombia
The Japan Foundation
Cooperation
Tama Art University Museum
Objectives of the Exhibition
José Rafael de Pombo y Rebolledo is a Colombia's national poet.
An international collaboration for a picture book project, "Pombo in Japan", is being held at the initiative of the Embassy of Colombia to show our hope of stronger cultural ties between Japan and Colombia that commemorated the centennial of the establishment of the diplomatic relationship in 2008.
Fourteen people were selected from broad range of applicants to participate in a workshop held in Tama Art University Museum in October, 2013 in order to create illustration to Pombo's poems. Selected people including children's book authors and illustrators drew the illustrations based on Pombo's well-known 13 poems for children under the guidance of Colombian acclaimed illustrator José Sanabria during the three-day workshop. An experienced translator worked on Pombo's poems for Japanese translation and the illustrations were added to the bilingual picture book, "Pombo in Japan".
To celebrate the completion of "Pombo in Japan", the original illustrations created at the workshop will be exhibited together with the picture book.
Please enjoy the Pombo's poems and illustrations full of dreams.
The picture book "Pombo in Japan" will be donated to schools and libraries in Japan.
In addition to this exhibit, another exhibition is going to be held in Colombia.
For further information about the exhibition details:
Embassy of Colombia in Japan
TEL:+81-(0)3-3440-6451
For further information about the venue:
The Japan Foundation Communication Center
TEL:+81-(0)3-5369-6075