What We Do to Engage with People Throughout the World
The Japan Foundation develops programs in three different fields—arts and cultural exchange, Japanese-language education overseas, and Japanese studies and intellectual exchange.
2.

What We Do to Engage with People Throughout the World
Creating opportunities to engage in the values and virtues embodied in art and life
Arts and culture—such as fine arts, performing arts, literature, films, food and fashion (human exchange, youth exchange)—inspire interest in different values and virtues.
They give insights into how people think, act, and communicate, and nurture mutual understanding that transcends language and stereotypes.
The Japan Foundation creates opportunities for people all over the world to encounter Japanese art and culture by supporting artists, presenting works, and creating international networks.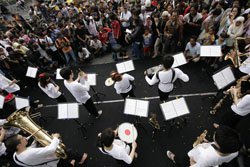 The more people learn Japanese, the deeper their understanding of Japan becomes
Learning a language bestows a greater understanding and familiarity towards the culture of the target language. The Japan Foundation supports Japanese-language education around the world to ensure that people get the proper environment and quality of education.
Programs include organizing the Japanese-Language Proficiency Test , developing teaching materials, supporting Japanese courses, dispatching Japanese-language specialist to overseas and providing training programs for Japanese-language teachers, as well as conducting worldwide surveys to meet the needs of all Japanese language practitioners.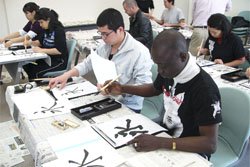 Combining Japan with the world's public intellectuals is key to resolving issues that we all share
To deepen the understanding of Japan and to maintain good relations between Japan and other countries, aid is granted through fellowships for research in Japan and through diverse grant programs for Japanese studies organizations. To promote networking on an international level, surveys are carried out on overseas researchers and organizations of Japanese studies. Collaborative research and dialogue projects are also carried out to confront the problems of the world or specific regions and to seek measures to solve such problems.