Showcasing Traditional Japanese Music in Cambodia, Myanmar, and Laos "Sho Asano & Ensemble" Tour in Southeast Asia New Age of Japanese Music ~Tradition & Challenge~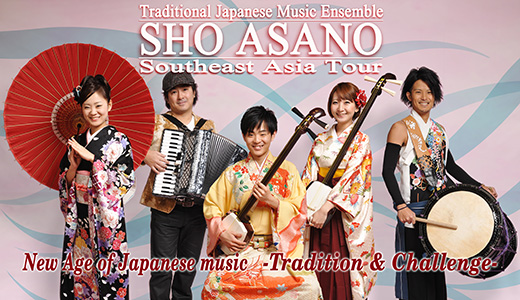 ©Masa Noda/blank;ISM
The Japan Foundation organizes a concert tour and lecture workshops featuring Tsugaru shamisen player Sho Asano and his troupe of young and talented hogaku [traditional Japanese music] performers in Cambodia, Myanmar, and Laos, designed to appeal especially to younger generations. Scheduled from February 21 to March 1, 2013, this tour celebrates the 40th Year of ASEAN-Japan Friendship and Cooperation.
During the tour, Sho Asano will perform together with Tsugaru shamisen player Hikari Shirafuji, Tsugaru shamisen player and teodori [hand dance] performer Sachie Asano, wadaiko drummer and narimono-shi [percussionist] Koki Miura, and keyboardist Syoji Morifuji. While bringing the best of traditional Japanese music and its instruments, the performances will also provide contemporary insight into the explorations of traditional Japanese music today. The performers will also play local pieces and appear with local musicians in each country. In addition, lecture workshops will introduce the history and playing techniques of traditional Japanese instruments, and offer an opportunity to interact with the traditional music of each country, aiming for further development of mutual understanding and friendship through music.
Read an essay on the tour contributed from Tsugaru shamisen player Sho Asano in Wochi Kochi Magazine.
Dates: February 21 - March 1, 2013
outline
Phnom Penh (Cambodia)
Dates: Thursday, February 21, and Saturday, February 23
Venue: Cambodia-Japan Cooperation Center (CJCC)
*The performance on February 21 is a mini-concert.
outline
Yangon (Myanmar)
Date: Monday, February 25
Venue: PARKROYAL Hotel
outline
Vientiane (Laos)
Date: Friday, March 1
Venue: Lao National Cultural Hall
outline

| | |
| --- | --- |
| Organized by: | The Japan Foundation |
| Co-organized by: | Embassy of Japan in Cambodia, Embassy of Japan in Myanmar, and Embassy of Japan in the Lao PDR |
Message from Sho Asano
Some things evolve over time, while newer things tend to catch our attention. But when we completely forget good old things, we sometimes lose sight of what is really important.
I think minyo [Japanese folk music] is one such example. Nowadays, people rarely listen to minyo songs, saying they are old-fashioned or not cool. But minyo songs were originally written to express the Japanese spirit of appreciation for the things around us, and they often incorporated local specialties, dialects, landscapes, or what was in fashion at the time. Living in this contemporary period where everything seems to change with every hour, I believe it is important for more people to know how wonderful these songs are, and to be grateful to our ancestors and predecessors, and to pass on these songs, which symbolize our precious heritage, to future generations.
Whether we live in Japan, or Cambodia, or Myanmar, or Laos, we are all Asians. We are neighbors moving towards the future together.
And because we are Asians with so much in common, I believe that Japanese minyo songs will resonate with the audiences, and that is why I hope they will have the opportunity to listen to these songs. I believe minyo songs, produced by the people, will connect us with each other.
I hope to make friends with everyone I meet on this concert tour. I feel very grateful for this valuable opportunity and wish to express my pleasure through the performance.
Artist Profiles
Sho Asano (Tsugaru shamisen)
Sho Asano was born on March 2, 1990, in Sendai City, Miyagi Prefecture. He began playing shamisen at age five, influenced by his grandfather. At age seven, he made his first appearance at the All-Japan Tsugaru Shamisen Championship (Hirosaki), and became the youngest player ever to participate. In the following years, he broke records for the youngest champion in each class, and in 2004, at age 14, he became the youngest champion at Class A of the All-Japan Tsugaru Shamisen Championship, a title that he held for three consecutive years until 2006, before being inducted into the Championship's Hall of Fame. In 2007, Asano released his debut album titled Sho-fu [Wind of Sho] (Victor Entertainment). In March 2008, he performed a solo concert in Washington DC, and from April to May 2008 participated in a Canada tour organized by the Japan Foundation (six concerts in five cities). In September 2011, he embarked on the "Sho Asano & Ensemble" tour in the Baltic States, also organized by the Japan Foundation (six concerts in six cities).
Official website: http://www.j-s.co.jp/asano/
Hikari Shirafuji (Tsugaru shamisen)
Hikari Shirafuji was born in 1990 in Kitakyushu City, Fukuoka Prefecture. Though self-taught, at age 12 she won several competitions, including the junior class of the All-Japan Tsugaru Shamisen Championship. She has won the Hirosaki Competition for two years running.
Shirafuji is also actively engaged in collaborative work, and continues to evolve as an artist. She is currently the number one artist among young female shamisen players.
Official website of Teru&Teru: http://kiki-teruteru.jimdo.com/
Sachie Asano (Tsugaru shamisen/ teodori [hand dance])
Sachie Asano was born in 1991 in Sendai City, Miyagi Prefecture, and is the younger sister of Sho Asano. Like her brother, she is an extraordinarily gifted artist, with a promising future as a next-generation leader of the Tsugaru shamisen world. Besides the shamisen she has also won many prizes as a pianist and teodori [hand dance] performer.
Koki Miura (Wadaiko/ narimono [percussion])
Koki Miura is the leader of the wadaiko drum groups IKI, Senrai-Yakara, and M's Japan Orchestra. He also assists composer Mitsuaki Sato's wadaiko workshops, teaches "fukko wadaiko", which is a wadaiko group comprised of Ogatsu Junior High School students, using old rubber tires as drums, and hosts the radio program. In 2002, he became the first Japanese musician to be invited to the "World Trade Center Memorial Concert" in New York City. He was also invited to the "Bali Art Festival Invitational Performance" in 2006, and played in both Bali and Japan. In 2007, he performed in Winona, Minnesota, in the United States. In 2011, after the Great East Japan Earthquake, Miura performed at memorial events such as the Tohoku Rokkon Festival, Esashi Oiwake Requiem produced by Aisuke Matsutoya, and the Silvester concert "Chinkon to Kansha (Requiem and Gratitude)" in collaboration with Yosuke Yamashita. In 2012, he embarked on a tour in Taiwan (total of 13 performances), in addition to performing at the closing ceremony of the Taiwan Lantern Festival, and also played in Korea as well as in Japan.
As a soloist, he has participated in "Tango Nostalgia 2" starring Aya Sugimoto, and has performed with the AUN J Classic Orchestra and with Sho Asano.
Official website of Yakara: http://www.wadaiko.info/yakara.html
Syoji Morifuji (Keyboard)
Syoji Morifuji started his musical career as a high school student, and while attending Keio University he studied under renowned pianists Junko Miyagi and Hiroyuki Namba, becoming involved in activities as a synthesizer programmer, performer, and music arranger. In recent years, besides producing records and performing concerts, Morifuji has been actively participating in stage and theater productions. He also performs at live houses in Tokyo with his group Flaque.
Official website: http://home1.tigers-net.com/d_heaven/
[Contact Us]
The Japan Foundation
Asia and Oceania Section, Arts and Culture Dept.
Person in charge: Yuta Genda
TEL: +81-(0)3-5369-6062