Human Exchange and Cultural Cooperation
The Japan Foundation organizes lectures, demonstrations, and workshops abroad designed to give people a first-hand experience of Japanese cultural practices rooted in daily life, such as the tea ceremony, Ikebana, and cooking. It also administers programs to assist cultural development in other countries, including sending experts to share their expertise on the preservation of cultural property or dispatching sports and music practitioners.
Introduction of Japanese Culture
Specialists of various fields of Japanese culture are dispatched to overseas to promote understanding of Japanese culture. They hold lectures and demonstrations of their expertise, some are in such traditional cultural fields as flower arranging (kado) and tea ceremony (sado), while others are in such contemporary cultural fields as animation and architecture.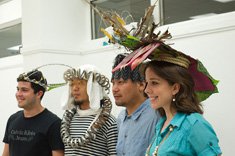 In order to preserve cultural properties and nurture personnel abroad in the various fields of culture, the Japan Foundation has been extending its cooperation by dispatching Japanese specialists overseas, inviting overseas specialists to Japan, and organizing workshops.