Summary Report : Symposium "Cultural Communication - New Communication Tools and the Future of International Relations"
With the development of new communication tools such as social media, the exchange of information among individuals has accelerated and information can be spread worldwide quickly. The exchange of information through the internet has an enormous impact on diplomacy as well as international cultural exchange.
At the symposium hold on December 12th, 2013, we compared and discussed how these new communication tools were used in Japan, Germany and the rest of the world. How does social media affect the images of nations and the work of mass media? How can civic participation in international cultural exchange be encouraged? And what will societies and international cultural exchange look like in the future?
This report summarizes the points discussed by leading scholars and practitioners at the symposium.
schedule
Date
December 12th, 2013 10:00AM~6:00PM
Venue
Japanese-German Center Berlin (Berlin, Germany)
Language
Japanese and German with simultaneous interpretation
Organizers
The Japan Foundation and Japanese-German Center Berlin
Audiences
Approximately 90 people
Program

Session 1:
Changing Media and Changing Communication Styles
Session 2:
New Communication Tools and International Cultural Relations
Session 3:
Social Media and Diversifying Actors
Final Discussion

Panelists

AIDA Hirotsugu (Kyodo News)
Prof. WATANABE Yasushi (Keio University)
Prof. SHOJI Masahiko (GLOCOM, International University of Japan)
Prof. Dr. Alexander GÖRKE (FU Berlin)
Dr. Heinrich KREFT (German Federal Foreign Office)
Anja TÜRKAN (ifa Research Programme "Culture and Foreign Policy" on "Digital Diplomacy" 2011-2012)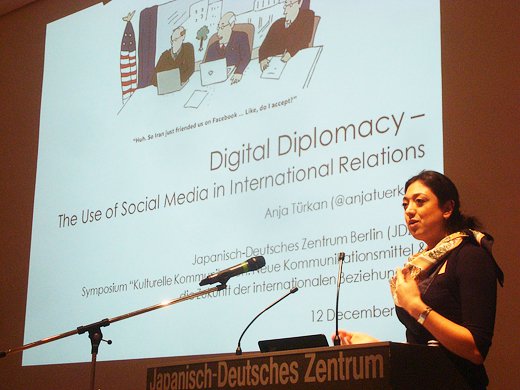 Ms.Anja TÜRKAN, Presenting about the "Digital Diplomacy"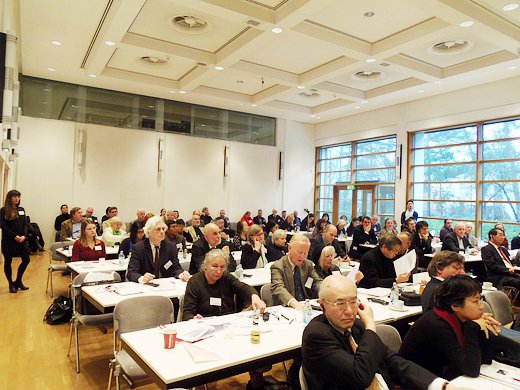 Photo from the Symposium
Adobe Reader software is available for free download from the Adobe Systems web site. To download and install Adobe Reader,
click on this link

and follow the instructions given for your operating system.
[Contact Us]
The Japan Foundation
Japanese Studies and Intellectual Exchange, Europe, Middle East and Africa Team
Persons in charge: Tetsuya Koide
TEL: +81-(0)3-5369-6071 FAX: +81-(0)3-5369-6041