The Japan Foundation Invitational Group Tour Program for U.S. Educators 2014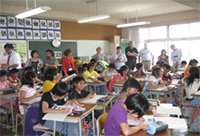 School visit (in the past year)
The Japan Foundation is inviting U.S. educational leaders, such as principals of elementary and secondary education institutions and government officials, to Japan from Friday, June 27 through Saturday, July 5, 2014. With the purpose of promoting an understanding of Japan and Japanese-language education in the U.S., this Program provides these educators opportunities to visit elementary and secondary schools in Japan and conduct exchange activities with teachers and students, as well as to share their opinions with Japanese educators and local administrators. Through their participation, we hope that the participants will expand or open Japanese-language courses in their home country. The Program also expects itself to play a part in strengthening administrative support for Japanese-language education at elementary and secondary education level, and in deepening ties between Japan and the United States.
Dates
Friday, June 27 − Saturday, July 5, 2014 (A duration of nine days)
Number of participants
14
As listed below, the participants serve as principals of elementary and secondary education institutions, educators with director-level positions, who are responsible for teacher training and curriculum making, and coordinators in foreign language education. In other words, they are in positions being involved in policy making on introducing Japanese-language education into school education.
List of institutions to be visited
Osaka Prefectural Semboku Senior High School (Sakai, Osaka), Sennan Municipal Tarui Elementary School (Sennan, Osaka), cultural institutions in Tokyo and Kyoto, ministries and government offices, The Japan Foundation Japanese-Language Institute, Kansai (Tajiri-Cho, Osaka), and others
*The list indicated above is subject to change
List of Participants
List of Participants

| Name | Sex | Position | Institution | State |
| --- | --- | --- | --- | --- |
| AOKI, Michele Anciaux | F | World Languages and International Education Program Supervisor | Washington State Office of Superintendent of Public Instruction | WA |
| BARFIELD, Harold Gregory[Greg] | M | Program Specialist, World Languages and Global Initiatives | Georgia Department of Education | GA |
| BARR, Scott Douglas | M | Principal | Clasical High School | RI |
| BUENO, Jose | M | Principal | Miami Dade County Public Schools | FL |
| COOK, Aaron Robert | M | Principal | Marysville High School | OH |
| CRITES, Kathaleen Beatrice | F | Principal | Northwood Elementary School | IN |
| ISALY, Timothy Alan | M | Assistant Principal | Creekview High School | TX |
| PAYNE, Cadwallader Anthony | M | Principal | Presidio Middle School | CA |
| REVSBECK, Douglas John | M | Principal | Harding High School | MN |
| ROSE, Amy Lynn | F | Assistant Principal | Kelly Walsh High School | WY |
| SMITH, Cheri Harris | F | Principal | Parker-Bennett-Curry Elementary School | KY |
| SMITH, James Joseph | M | Director, Department of school Leadership | Virginia Beach City Public Schools | VA |
| SOLTNER, Eugene Francis | M | Principal | Great Neck Middle School | VA |
| STEGMAN, Karen Flanigan | F | Principal | Dunsmore Elementary School | CA |
[Contact Us]
The Japan Foundation
Educational Training Section, Japanese-Language Institute, Kansai
Person in charge: Menda (Ms.)
Tel: +81-(0)72-490-2601