The Japan Foundation Awards
Every year since 1973, the Japan Foundation has presented the Japan Foundation Awards to individuals and organizations that have made significant contributions to promoting international mutual understanding and friendship between Japan and other countries through academic, artistic and other cultural pursuits. This year marks the 46th year of the awards.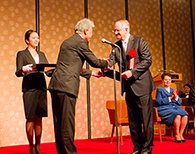 Read related articles in Wochi Kochi Magazine.
Press Release
The Japan Foundation Awards 2017 Go to
Alexandra Munroe, Frederik L. Schodt, and Andrej Bekeš
[Contact Us]
The Japan Foundation Communication Center
Tel. +81-(0)3-5369-6075