Frank B.Gibney
Frank B.Gibney

President
The Pacific Basin Institute at Pomona College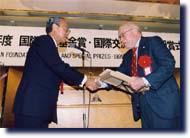 Coming as I do from cheerful, "laid-back," multi-cultural California, I always return with pleasure to the involved, intense, marvelously unicultural world of Japan. It is a pleasure for me to be here, as a welcomed guest. It is an honor-far more than I deserve-to receive this award from the Japan Foundation. In our globalized world of technology, instant communication and pop-civilization, the importance of that old-fashioned word "culture" is often forgotten. I congratulate the Japan Foundation for its continuing good work in protecting the values of culture, while broadening its reach.
I have spent most of my life learning about your culture-more than half a century's worth. My meeting with Japan began, ironically, against the background of war. Almost exactly 54 years ago, I arrived in this country, a nervous stranger in uniform, as my ship edged into the harbor of Sasebo, past the island-dotted coast. Eight years after that I wrote my first book, Five Gentlemen of Japan, in an effort to explain the complex unities of your island culture and history to my fellow Americans. Several books, innumerable articles, and one whole encyclopedia later, I am still trying. Most of my countrymen, who are "plainsmen," still don't get it.
Sometimes I find myself hopelessly confused. For the past halfcentury, I have tried to reconcile the extraordinary outward reach of your scholarship and technology and the fervency of your international commitment with a reclusive national togetherness that leaves the rest of the world alternately awed and exasperated.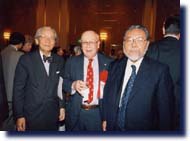 Like many so-called "Japanologists" I have waited for the "crossroads" at which Japan will oppose global external commitment to its traditional internal aloofness. Yet difficulties are bridged, apparent contradictions are ignored, solutions to problems are found without overmuch reliance on what we Westerners like to call "logic". Fukuzawa rightly taught his fellow-countrymen the importance of "reason and number". Several generations of Japanese scientists, engineers and economists have learned his lesson well. Yet Confucius and his pupil Ieyasu still live among you.
As a journalist, however, I am trained to be persistent in my observations. As a historian, I have tried to study Japan's history and culture, following in the path of those scholars who have gone before me-Sansom, Norman, Hall and Reischauer were my friends as well as exemplars. And my inter-cultural researches have been equally illumined and encouraged by the example of Japan's pioneer observers and interpreters of the West, from Fukuzawa, Nakae Chomin, Nishi Amane and other great minds of the Japanese Enlightenment down to friends like Nagai Michio, Matsumoto Shigeharu and my fellow journalist/historian, the late and still lamented Shiba Ryotaro.
That word "Enlightenment" I use advisedly-and in a Japanese context. Although popularly regarded as the creation of 18th Century French philosophes, modern scholars now agree that it was a general European movement-originating in the England of Newton and Locke, reaching its apogee in the "dare to know" exhortation of Kant, and achieving its most practical application in the thought and politics of the American Founding Fathers. But its effects were universal. Its explosive force continued like a chain reaction throughout the world-and nowhere more dramatically and more successfully than in Meiji Japan. We are all in a sense children of the Enlightenment. Enlightenment ideals, for all their leaks and failings, continue to inspire a faith in progress, in our ability to build a better world.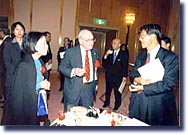 For more than a half century-the half century of my own active life- I have watched Japan lead the march of global material progress. (Here and there, I have tried to help.) The changes brought by the minds and hearts of Japan are almost too sweeping for human imagination to encompass. The lunar landscape of charred cities and smashed factories that I saw in the late Forties has given way to this spectacular civilization that we see around us-the world of bullet trains, shopping malls, marvelously machined cars, electronic offices and-above all-the ever-present everyday magic of the super computer. Awesome? Wonderful? Yes. But this global civilization is equally a world of over-arching greed, of political corruption, of glorified scandal, of senseless eroticism and dumbed-down manga comic books, of neglected old people and regimented children. How do we reconcile the bright face of Enlightenment material progress with its dark spiritual under-side?
Which brings us back to that much abused, but essential word "culture". There is in all the world no more fascinating culture than yours, here in Japan. Truly, this is the country with the world's strongest cultural gravitational pull-easy to enter, hard to escape. I have been held captive by this culture throughout my life-its often brilliant literature, its arresting films, its pervasive art, its graceful traditions. To live in this culture, to seek its roots, to trace the faith and morality at its core offers a great stabilizer, a steadying gyroscope that can give purpose to the constant progress of modernity. Without history and tradition, any nation's progress is merely an empty linear progression.
It is the achievement of the Japan Foundation to share the richness of this culture with others throughout the world-and by so doing to enrich these values at home. You have not only disseminated the best of Japan's heritage to other nations, conspicuously including my own. But you have welcomed the foreigner and the visitor-and the traditions they bring with them. This amounts to far more than mere exchange. It is true enrichment. By sharing our traditions and ideals in this way, perhaps we can all come closer to Kant's hope for the Enlightenmet as "Man's emergence from his self-inflicted immaturity".
Once again, my thanks and congratulations on your continuing work.