Wolfgang Sawallisch
Wolfgang Sawallisch

Conductor
Music Director of the Philadelphia Orchestra Honorary
Conductor Laureate of the NHK Symphony Orchestra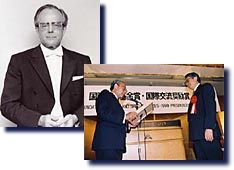 First of all, I would like to apologize for not being able to speak personally to you-but as Music Director of the Philadelphia Orchestra today I have to be in the United States to conduct the subscription-concerts at the beginning of the new season and to celebrate at this occasion the 100th birthday of the orchestra. I regret these circumstances very much, because to be the recipient of the Japan Foundation Award this year is not only a big event in itself-it is one of the greatest honors I ever received. I feel deeply moved and happy, and the overwhelming emotions should be given back to you as endless feelings of waves of thanks.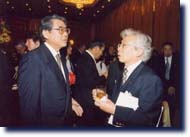 For 35 years I have been proud to say, and to confirm as often as I can, how strong my feelings for, and my relationships to, Japan are. I am always becoming more and more aware that the arts generally and music in particular are the best ambassadors among all people of the world-among ages and races, among countries and continents. During those years I became acquainted with almost two generations of Japanese musicians and Japanese music lovers, and I had the opportunity to grow up with them. It was and it is always again a wonderful experience to make music with my friends of the NHK Symphony Orchestra-not only here in Tokyo but also in other countries in the world. I have seen and felt how the hearts of the listeners opened more and more during the performances of concerts or operas, how the love of the music brings the people together, how I can also reach the younger generations, and how I can try to help the arts to enter the future-in the next century, one of the most important parts of our lives.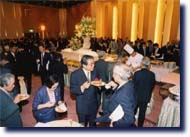 From the bottom of my heart I would like to thank my Japanese friends for appreciating my contributions to this beloved country and all its people. Receiving this Award makes me a little bit proud, too, and I share this distinction with all the musicians who helped me to realize my ideas about music and to demonstrate the overwhelming power of this art.
Here at this moment, my thanks are directed not only to all those responsible people for greatly me The Japan Foundation Award, esperrlly President Hiroaki Fujii, but also to the President of the NHK Symphony Orchestra, Ken Soga, who helps me to bring my words of thanks to you today. As long as I can, I will do my best to enhance the relations between Japan and my country-but not only between on countries-with our music we always shall improve the connections among all people on earth to make the next century an incredibly beautiful and peaceful one.
Thank you.
(As Prof. Sawallisch was unable to attend the ceremony, Mr. Ken Soga, the President of NHK Symphony Orchestra, attended as his representative.)