Shuji Takashina
Shuji Takashina

Chairman of the Selection Committee
Director-General of the National Museum of Western Art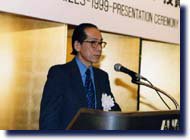 For the selection for The Japan Foundation Awards and the Special Prizes this year, 156 individuals and organizations were nominated as candidates by a large number of people in countries around the world, including past award-winners, intellectuals, cultural-exchange organizations, universities and other educational and research institutions, foreign ambassadors in Tokyo, and the heads of Japanese diplomatic missions in overseas countries. Following the preliminary screening, the Selection Committee met in Tokyo on July 29, and after a careful selection process selected two individuals to be awarded The Japan Foundation Awards, and two individuals and one organization to be awarded the Japan Foundation Special Prizes.
Apart from myself, this year's Selection Committee was made up of the following seven people:
Mr. Shinichiro Asao, Advisor to the Japan Foundation
Professor Setsuho Ikehata, Institute of the Study of Languages and Cultures of Asia and Africa, Tokyo University of Foreign Studies
Professor Dr. Takashi Oshio, Ferris Jogakuin
Dr. Hayao Kawai, Director-General of the International Research Center for Japanese Studies
Mr. Hatsuhisa Takashima, Executive Controller-General of NHK
Mr. Seiji Tsutsumi, Chairman of the Saison Foundation
Mr. Masakazu Yamazaki, Playwright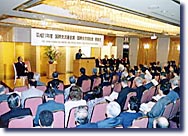 The recipients of the 1999 Japan Foundation Awards are Professor Frank Gibney, President of the Pacific Basin Institute at Pomona College in California, the United States; and German conductor Maestro Wolfgang Sawallisch, Music Director of the Philadelphia Orchestra and Honorary Conductor Laureate of the NHK Symphony Orchestra. The recipients of the Japan Foundation Special Prizes are Dr. Ahmet Mete Tuncoku of the Middle East Technical University in Turkey; Mr. Tadashi Yamamoto, President of the Japan Center for International Exchange; and the Japanese American National Museum in Los Angeles, the United States.
Both as an international journalist and a publisher, Professor Gibney has introduced people to Japan in a variety of forms, and has made a major contribution toward promoting a better understanding of Japan and East Asia in the United States. In addition, he founded the Pacific Basin Institute and through the planning of a television series examining Japan-U.S. relations and numerous seminars, symposiums, and other programs, he has built up a highly commendable record of achievement in promoting intellectual dialogue and human exchange between the United States and Japan and other Asian countries.
Maestro Sawallisch is one of Germany's leading conductors of worldwide fame, and I am sure there is no need to catalogue his activities. As for his relationship with Japan, since his first appearance with the orchestra in 1964, he has conducted and led the NHK Symphony Orchestra for more than 30 years, and in addition has successfully led the performances in Japan of many major orchestras and opera companies from Europe and the United States, making a major contribution to the spread of Western music in Japan, and to the nurturing of Japanese musicians and orchestras.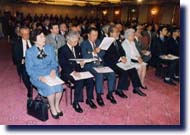 Dr. Ahmet Mete Tuncoku, one of the most distinguished scholars of Japanese studies in Turkey, has an impressive record of achievement in the field of the comparative study of modernization in Turkey and Japan. In addition, he has acted as a prime mover in the fostering of Japanese studies and Japanese-language education in Turkey, working tirelessly for the establishment of Japanese courses both in his own Middle East Technical University, and in universities throughout Turkey. He was selected for the Japan Foundation Special Prize both in recognition of his contribution over many years, and also in the hope that he will continue to work for the further development of interchange between Turkey and Japan. With regard to Mr. Tadashi Yamamoto, I am sure he needs no introduction to all of you here today, involved as you are in international exchange. I will state simply that since the late 1960s to the present day he has achieved tremendous results in conducting numerous international exchange programs between Japan and the United States, Europe, and Asian countries. Thanks to Mr.Yamamoto's leadership, exchange has been extended to young people, women, journalists, scholars, businesspeople, NGOs, and politicians, helping to develop communication and understanding. This award is both in recognition of this long and impressive contribution, and also in token of our hope that he will continue to be active in the future.
The Japanese American National Museum was established in 1985, and opened a permanent exhibition hall in the Little Tokyo district of Los Angeles in 1992. In spite of its relatively short history, the Museum has, through its unique exhibitions explaining the history and culture of Americans of Japanese ancestry and its serious-minded research and educational activities, worked enthusiastically to promote communication on ethnic issues and to foster an understanding of cultural diversity, not only in the United States, but also worldwide. In January this year, it opened a new pavilion and can be expected to improve and develop its programs still further in the future. For these reasons we have selected the Japanese American National Museum as this year's recipient of the JapSan Foundation Special Prize.
And with that, I will end this brief description of the recipients of The Japan Foundation Awards and the Japan Foundation Special Prizes. Thank you very much.