Yoneo Ishii
Yoneo Ishii

President, Kanda University of International Studies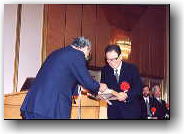 Today,I stand before you overwhelmed with emotion upon suddenly receiving the celebrated Japan Foundation Award, with its renowned heritage. I began to study the Thai language in 1953, some 47 years ago, and I have continued with my studies of Thailand and Southeast Asia to this very day. I am truly delighted that this single decision to study Thai has made it possible for me to deepen my exchange activitiess with scholars who conduct research on Southeast Asia, not only from Thailand and other Southeast Asian nations, but from all across the globe.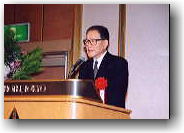 "International exchange" has become a buzzword that is frequently used in the context of relations between nations or organizations, but I believe that friendship and trust between individuals in one nation and those in another must be the bedrock of international exchange. In my case, the study of Southeast Asia has provided the means for me to deepen my exchanges with individuals worldwide, and to form many precious friendships. If I am being presented with the Japan Foundation Award as a result of this, I consider the award to be an unparalleled honor.

When I began my research of Southeast Asia back in 1953, this region was of very little interest to the Japanese people. Wherever I went and whatever I said, I would inevitably be asked "Why on earth are you studying Thai?" and "Why did you decide to study Southeast Asia?" Surely, I never would have faced such questions if I had chosen to study France or the United States. Today, I simply reply that I have been unable to change my field of research since I began to study Thailand nearly 50 years ago.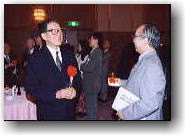 The younger generation is now producing top-quality, world-class research on Southeast Asia. I am accepting this prestigious award not only for myself, but also in order to provide great encouragement to these young scholars. As for myself, I will continue with my studies to advance international exchange, not only between Japan and Southeast Asia but also among all the peoples of the world.

Finally, I should like to express my sincere gratitude to each and every one of you for taking the time to participate in this presentation ceremony today. Thank you very much.