The Japan Foundation Awards (2011)
The Japan Foundation Award for Arts and Culture
TAMBUCO Percussion Ensemble (Mexico)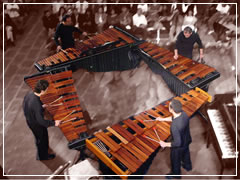 TAMBUCO was founded by four Mexican percussionists in 1993. It has been performing high-quality contemporary Japanese music and musical compositions by Japanese composers both inside and outside Mexico by utilizing Oodaiko (Japanese large bass drum) or Shimedaiko (small high-pitched Japanese drum) to realize their musical concept. In addition, TAMBUCO actively works in collaboration with renowned Japanese artists in the field of Koto, Shakuhachi, marimba and violin, and has made immense contributions to the understanding and promoting of Japanese culture through these collaborations. Performing around the world, TAMBUCO has been nominated four times for a GRAMMY Award and won several significant awards.
The Japan Foundation Award for Japanese Language
Department of Japanese and Japanese Literature, Faculty of Arts, Cairo University (Egypt)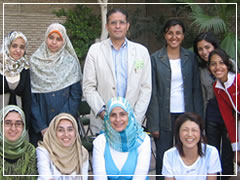 Since its establishment in 1974 and as the first center for Japanese studies inaugurated in the Middle East and Africa, the department has been playing a central role in fostering scholars of Japanese language and culture, as well as promoting Japanese language education. Unceasingly contributing to the smooth and effective progress of understanding of Japanese culture in Arabic-speaking countries with graduates publishing or translating numerous books on Japan, ranging from literature to politics, the department is producing graduates with high Japanese language skills and active around the world.
The Japan Foundation Award for Japanese Studies and Intellectual Exchange
Augustin Berque (France)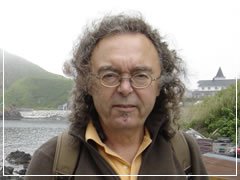 Retired Professor, School of Advanced Studies in the Social Sciences.
Professor Berque is born in Rabat, Morocco, in 1942. With his rich knowledge of Japanese culture and milieu, Professor Berque is a leading Japanese scholar who developed his own interpretation of "Fudo." Through his groundbreaking study on "Fudo" stimulated by Tetsuro Watsuji's "A climate: a philosophical study" (Fudo) he has immensely contributed to the academic fields of geography, philosophy, anthropology and Japanese studies. Professor Berque's research seeking the essence of the human existence is highly evaluated and his thought-provoking suggestions to Japanese culture surely enrich the field of Japanese study. In addition to these academic accomplishments, he worked as Director of the Maison franco-japonaise in Tokyo from 1984 until 1988.