Speech by Gerald L. Curtis (U.S.A)
Speech by Gerald L. Curtis (U.S.A)
(Burgess Professor of Political Science, Columbia University)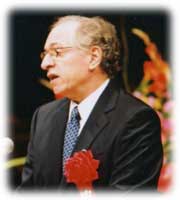 I am deeply honored to be the recipient of this wonderful award from the Japan Foundation. I am especially pleased to be receiving it on the occasion of the Foundation's thirtieth anniversary, an important milestone in its history. The Japan Foundation has played a crucial role supporting many cultural and intellectual exchange programs. It is because of the high level of commitment of the men and women who work at the Japan Foundation that it has become an organization highly regarded around the world. I am very grateful that the Japan Foundation has recognized my work in this manner.
I first visited Japan in the summer of 1964 at the time of the opening of the Tokyo Olympics. I was a 23-year-old graduate student at Columbia University who had come to Japan to live in Tokyo for one year to study Japanese. I did not know it at the time, but this was to be the beginning of my lifelong involvement with Japan.
Looking back on those days now I think that what propelled me and other young Americans to study about Japan was our curiosity and interest in what was happening in Japan at that time. Many of my professors had been drawn into Japan studies after having studies Japanese in the army and navy Japanese school set up during world war two. But my generation was drawn to Japan in the 1960s not by the Pacific war but by the dynamic transformation Japan and undergoing at the time.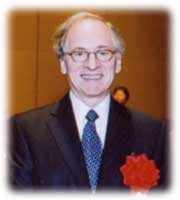 The Japanese economy was growing with amazing speed and Japan was entering the club of the world's most economically advanced nations. And its economy was developing in the context of a vibrant democratic political system. In spite of the historical and cultural differences between Japan and the West, their political systems have much in common. At the same time, in spite of common democratic governance, there are unique features to the Japanese political system that are not found in the US or in western Europe. It was this complexity of Japanese politics that attracted me. All my writings about Japanese politics have been an attempt to satisfy my curiosity about this system.
It is clear that Japanese political system does not function as effectively today as it did in the past. Accordingly, Japan today is facing the need for fundamental economic, political and administrative reform. Pushing reform forward is not an easy thing to do, but in Japan's case it seems to me that now the key issue is not so much the direction of change as it is its speed. In any event, for a political scientist interested in factors that propel change and those factors that constrain it, Japan is as fascinating a country today as it was when I first visited some thirty odd years ago.
The current world situation is extremely unstable and dangerous. There are many intense arguments about what to do to solve many complex problems. But in the long run, the most important thing after all is education. Education and cultural exchange are not flashy but the past fifty years' history of US-Japan relations demonstrates how invaluable they are. It is my hope that Japan will continue to put a great deal of effort into cultural exchange programs.
Everything I have accomplished in my career has been the result of the cooperation I have had from family, friends, and countless individuals in Japan. I would like to close by thanking my wife Midori for her constant support, my daughters Elissa and Jennifer, and the many teachers, friends, colleagues, and who have taught me so much. Thank you very much.