The Japan Foundation Award / Special Prizes (2006)
The Japan Foundation Award and The Japan Foundation Special Prizes are presented each year to recognize those who have made outstanding achievements in the field of international cultural exchange. Presentation ceremony will take place at the Hotel Okura Tokyo on Tuesday, October 3, from 6:30 PM.
The Japan Foundation Award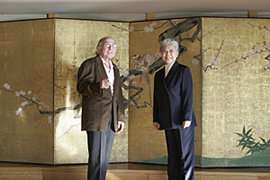 ©Otsuka Toshiyuki / S&T PHOTO
COURTESY OF SHOGAKUKAN INC.
Joe & Etsuko Price
Directors, The Shin'enKan Foundation [U.S.A.]

For their building of a collection of Edo-period Japanese art, their establishment of the Shin'enKan Foundation introducing their collection and promoting research, and their great role in the creation of the Pavilion for Japanese Art at the Los Angeles County Museum of Art.
The Japan Foundation Special Prizes
for Arts and Culture

for Japanese-Language Education

for Japanese Studies
For the promotion of international cultural exchange through the holding of a highly acclaimed international film festival with participation by local residents, an event providing support particularly for filmmakers from Asian and other countries.
For the fostering of talented human resources well versed in the Japanese language and for so effectively carrying on the three-century-long tradition of Japanese-language education in Russia.
For many years of leadership in the field of Japanese studies in the Republic of Korea and for playing a central role in the establishment of the Institute for Japanese Studies at Seoul National University.