JFIC Library
JFIC Library develops its collection of books and other materials on Japan, international cultural exchange and publication by the Japan Foundation to provide extensive information services. The Library can be used by any member of the public.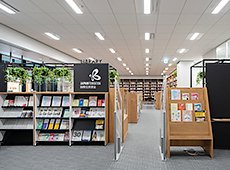 What's New
The JFIC Library will be closed from Tuesday, October 27 through Thursday, October 29, 2015 due to an inventory.
We apologize in advance for any inconvenience this may cause our users.
October 1, 2015
Outline
Open
Monday - Friday 10:00 a.m. - 19:00 p.m.
Closed
Saturdays, Sundays, national holidays, The last day of every month, New Year's holidays, and library inventory period


( ) indicates the Library is closed.

October 2015

| SUN | MON | TUE | WED | THU | FRI | SAT |
| --- | --- | --- | --- | --- | --- | --- |
| | | | | 1 | 2 | (3) |
| (4) | 5 | 6 | 7 | 8 | 9 | (10) |
| (11) | (12) | 13 | 14 | 15 | 16 | (17) |
| (18) | 19 | 20 | 21 | 22 | 23 | (24) |
| (25) | 26 | (27) | (28) | (29) | 30 | (31) |

November 2015

| SUN | MON | TUE | WED | THU | FRI | SAT |
| --- | --- | --- | --- | --- | --- | --- |
| (1) | 2 | (3) | 4 | 5 | 6 | (7) |
| (8) | 9 | 10 | 11 | 12 | 13 | (14) |
| (15) | 16 | 17 | 18 | 19 | 20 | (21) |
| (22) | (23) | 24 | 25 | 26 | 27 | (28) |
| (29) | (30) | | | | | |

Social Media Official Account

JFIC Library Facebook Page

Location
4-4-1 Yotsuya, Shinjuku-ku, Tokyo 160-0004 Access

Contact
Tel: 03-5369-6086 / Fax: 03-5369-6048
E-mail: Lib@jpf.go.jp
(When sending an e-mail, please enter a half-width character "@" instead of a full-width character "@.")