The Emergence of the Contemporary: Avant-Garde Art in Japan, 1950-1970
Exhibition Details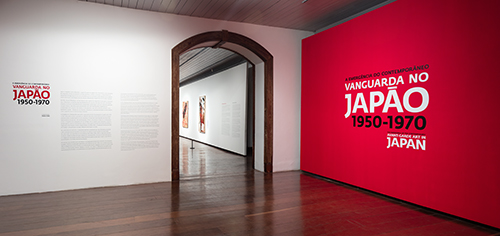 Section 1: Politics of Abstraction
Focusing on the 1950s and early 1960s leading up to the Tokyo Olympics, this section explores the state of Japanese abstract expressionism, from the impassioned works of the Gutai Group to the cool-headed abstract work of Jikken Kobo (Experimental Workshop). In the cases of both groups, we present not only their two-dimensional works, but also film pieces and installations in a bid to investigate the abstract experimentation that went on across various media forms.
Artists: Shozo Kitadai, Kazuo Shiraga, Yasuo Sumi, Atsuko Tanaka, Hideko Fukushima, Saburo Murakami, Sadamasa Motonaga, Katsuhiro Yamaguchi
Section 2: Art and Social Engagement
In this section, we investigate the social conflict of the time seen through the reportage-style pictures of the 1950s, as well as the relationship between art and society brought into view around the time of the Yomiuri Independent Exhibition. As well as pieces from the Yomiuri Exhibition, which went springing out of the exhibition hall and into the public spaces beyond, we also display other controversy-inspiring works such as Genpei Akasegawa's 1000-Yen Note, which made the conflict between avant-garde art and society manifest.
Artists: Genpei Akasegawa, Tatsuo Ikeda, Shigeo Ishii, Hiroshi Katsuragawa, Jiro Takamatsu, Natsuyuki Nakanishi, Hiroshi Nakamura
Section 3: Interventions in Urban Space
The early 1960s was the age when artists took to the city and tried out many new and experimental art forms in the attempt to find new means of expression, also carrying out various street performances. In this section we have a look at those performances through the vast collection of photographs taken by Mitsutoshi Hanaga, and turn fresh eyes on the actions of those artists in urban spaces at the time.
Artists: Arata Isozaki, Yusaku Kamekura, Tamio Suenaga, Mitsutoshi Hanaga, Minoru Hirata
Section 4: Matter, Concept, and Art
Here we showcase works from the 1970s dealing with materiality. By looking at artists such as those from the Mono-ha movement, who considered the relationship between matter and space, and those such as Yutaka Matsuzawa creating concrete poetry, which utilized script in an abstract way to devise an innovative form of expression, we explore the oppositional relationship between conceptual art and materiality. We also present a new installation by Kishio Suga, one of the key members of Mono-ha.
Artists: Yoko Ono, Katsue Kitasono, Kishio Suga, Jiro Takamatsu, Seiichi Niikuni, Mitsutoshi Hanaga, Yutaka Matsuzawa

Atsuko Tanaka, Work (Hoops), 1963
© Kanayama Akira
and Tanaka Atsuko Association

Saburo Murakami, Work, 1960
© Makiko Murakami

Yusaku Kamekura, The 18th Olympic Games, 1962
Photo Director: Jo Murakoshi
Photographer: Osamu Hayasaki

Genpei Akasegawa,
Morphology of Revenge (Look him in the Eye Before Killing Him), 1963

Hiroshi Nakamura, 5th Sunagawa, 1955
[Contact Us]
The Japan Foundation
International Operations Section I, Arts and Culture Dept.
Person in charge: Saito (Mr.), Okabe (Ms.), Suzuki (Ms.)
Tel: +81-(0)3-5369-6061 / Fax: +81-(0)3-5369-6038
E-mail: arts1@jpf.go.jp
(When sending an e-mail, please enter a half-width character "@" instead of a full-width character "@.")