Worth Sharing - A Selection of Japanese Books Recommended for Translation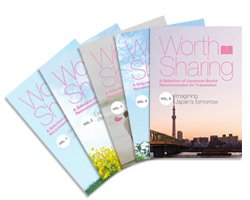 For more than 40 years the Japan Foundation has supported the publication of Japan-related books around the world through its Support Program for Translation and Publication on Japan. Books in over 50 languages have been published during that time, in a wide array of genres including classic and contemporary literature, history, sociology, politics, economics, and cultural theory.
We have compiled a booklet titled Worth Sharing―A Selection of Japanese Books Recommended for Translation to introduce some good books under our new initiative aimed at giving people overseas a better understanding of contemporary Japan. Creating the list is also a way for the Japan Foundation to help spread the word in Japan about these brilliant books that depict what the nation is like now, providing readers with authentic views of Japanese society and its people.
The titles recommended in this publication are works that the Japan Foundation would also prioritize for its own support program, provided the translations are of adequate quality and appropriate publication plans are submitted. The four members of our selection committee who are all well versed in Japanese literature and issues related to translation have done valuable work in choosing the titles for inclusion.
We aim for this publication to bring together literary works and their authors with translators and publishing companies so that the books can reach overseas readers, thereby planting the seeds for future interactions with Japan.
Mariko Ozaki (editor, Culture News Department, Yomiuri Shimbun)
Chō Kyō (Jing Zhang) (Professor , Meiji University)
Mitsuyoshi Numano (Professor, University of Tokyo)
Kan Nozaki (Professor, University of Tokyo)
(Japanese syllabary order/ honorific titles are omitted)
This newsletter provides overseas publishing companies, editors, and translators regular access to the latest information on publishing trends and new publications in Japan.