CULCON Chair: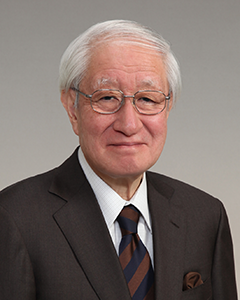 Hon. Amb. KATO Ryozo
Ambassador KATO Ryozo was the Ambassador of Japan to the United States of America from September 2001 to July 2008, and is the longest-serving Japanese Ambassador to the U.S. after the W.W.II. Ambassador Kato joined the Ministry of Foreign Affairs in April 1965 and held several positions in the Ministry such as Director of National Security Affairs Division in the North American Affairs Bureau, Director of Treaties Division in the Treaties Bureau, Deputy Director-General of North American Affairs Bureau, Director-General of Asian Affairs Bureau, Director-General of Foreign Policy Bureau and Deputy Minister for Foreign Affairs. As for overseas assignments, Ambassador Kato served four times in the U.S., including his tenure as the Consul-General of Japan in San Francisco and the Ambassador in Washington, D.C. Ambassador Kato also served in Australia and in the Arab Republic of Egypt.
Ambassador Kato served as Commissioner of Nippon Professional Baseball from 2008 to 2013. Since June 2009 to June 2017, he was a Member of the Board of Mitsubishi Corporation, and is currently Advisor to Palace Hotel Tokyo Special Advisor to Central Japan Railway Company and President of Youth For Understanding (YFU JAPAN Inc.). Ambassador Kato received B.A. from the University of Tokyo and LL.M from Yale Law School. He was bestowed upon with the Grand Cordon of the Order of the Sacred Treasure in recognition of his public service on May 2017. He is Japan Chair of CULCON since 2015.
---
Vice Chair: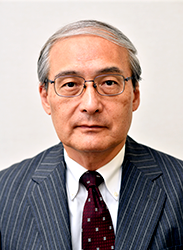 Dr. KUBO Fumiaki
KUBO Fumiaki has been the President of National Defense Academy of Japan since April, 2021. He is affiliated with the Nakasone Peace Institute as the Executive Research Director, as well as with the Japan Institute for International Affairs as a Visiting Scholar and the Tokyo Foundation as a Senior Research Scholar. He studied at Cornell University in 1984-86, at the Johns Hopkins University in 1991-93, and at Georgetown University and the University of Maryland in 1998-99. In addition, he was an Invited Professor at SciencesPo in Paris in the spring of 2009, and a Japan Scholar at the Woodrow Wilson International Center for Scholars in 2014. Kubo attended the Faculty of Law, the University of Tokyo, and received his B.A. in 1979 and Ph.D. in 1989 from the University of Tokyo. He is the author of many books which include: Modern American Politics (with ABE Hitoshi), Ideology and Foreign Policy After Iraq in the United States (editor), A Study on the Infrastructure of American Politics (editor). In 1989, he received the Sakurada-Kai Gold Award for the Study of Politics and the Keio Gijuku Award. In 2001 and 2002, Kubo served on the Prime Minister's Commission on the Study of Direct Election System of Prime Minister. Since 2007, Kubo is a member of the U.S.-Japan Conference on Cultural and Educational Interchange (CULCON). From June 2016 to June 2018, he was the President of the Japanese Association for American Studies.
---
Panelists: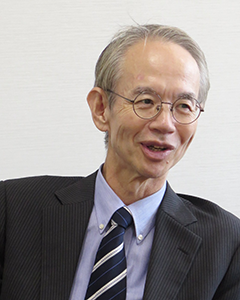 Mr. AGAWA Naoyuki
Mr. AGAWA Naoyuki is a Professor Emeritus of Keio University. He was a Distinguished Visiting Professor of Doshisha University from 2016 to 2021, teaching American constitutional history and law as a member of the Faculty of Law of that university. Prior to joining the university in April 2016, he was professor of Keio University from April 1999 through March 2016, where he served as Vice President, International, between 2009 and 2013 and Dean of the Faculty of Policy Management between 2007 and 2009.
Mr. Agawa served as Minister for Public Affairs at the Embassy of Japan in Washington, D.C. (2002 - 05). Mr. Agawa was also Of Counsel to the law firm of Nishimura Partners (1996 - 2002), associate and Asian Partner of the law firms of Gibson, Dunn & Crutcher in Washington, D.C. and Tokyo (1987 - 95) and Sullivan Cromwell (1984 - 85) and a member of the Legal Department of Sony Corporation (1977 - 87). He is licensed to practice law in the District of Columbia. Mr. Agawa is a graduate of the Law School (JD, 1984) and the School of Foreign Service (BSFS, magna cum laude, 1977) of Georgetown University.
Mr. Agawa's books include: The Birth of an American Lawyer, The Friendship on the Sea, and American History Through the United States Constitution (for which he received the Yomiuri-Yoshino Sakuzo Award in 2005), and Constitutional Revisions and Changes in the United States.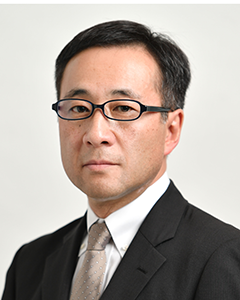 Mr. AKITA Hiroyuki
AKITA Hiroyuki is a Commentator of Nikkei. He regularly writes commentaries and columns, analysis mainly on foreign & international security affairs. He joined Nikkei in 1987 and worked at Political News Dept. (1998-2002) where he covered Japanese foreign & security policies, domestic politics. He was Senior & Editorial Staff Writer (2009-17) , and he also worked at "Leader Writing Team " of the Financial Times in London (Oct-Dec, 17).
He was Beijing Correspondent (1994-98) and Washington Chief Correspondent (2002-06). In Beijing, he reported major news events such as death of Deng Xiaoping, Hong Kong handover to China. In Washington, D.C., he covered White House & Pentagon, State Department during Bush administration.
He graduated from Jiyu Gakuen College in 1987 and Boston University (M.A.). From 2006 to 2007, he was an associate of U.S.-Japan Program at Harvard University, where he conducted a research on U.S.-China-Japan relations. In March 2019, he won the Vaughn-Ueda International Journalist Award, a prize for outstanding reporting of international affairs. He is an author of two books in Japanese: "Anryu (Power Game of U.S.-China-Japan)"(2008), "Ranryu (Strategic Competition of U.S.-Japan and China)"(2016).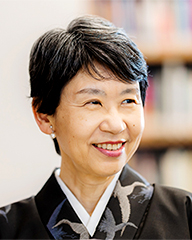 Dr. SATO Yuri
SATO Yuri serves as the Executive Vice President of The Japan Foundation (JF) from October 2021. At the JF she mainly oversees Japanese studies and global partnership programs with the aim of solving common issues through international dialogue.
Prior to this she has been working as a researcher on Indonesia and Southeast Asia, especially economy, industry, business and political economic studies at the Institute of Developing Economies (IDE-JETRO) since 1981. She stationed in Indonesia as a researcher in 1985-87 and 1996-99, and as a special advisor for the Indonesian Chamber of Commerce and Industry (KADIN) in 2008-10. In 2015-19 she served as Executive Vice President of IDE, and of JETRO (Japan External Trade Organization) in charge of promoting economic exchange with Asia and Oceania.
Her present notable positions include President of the Japan Association of Asian Studies (JAAS), Vice President of the Colloquium on Indonesian Studies in Japan, and Director of the Japan Indonesia Association Inc. She obtained master and doctorate degrees in economics from University of Indonesia. She is the author/editor of numerous academic works, and the recipient of the 24th Grand Prix Asia Pacific Awards and the 16th Okita Memorial Prize for International Development Research on her book. She also has experiences in teaching at several universities including the Waseda University and the University of Tokyo.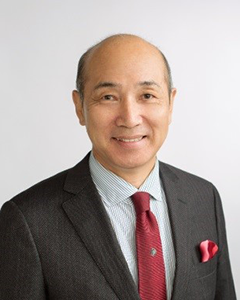 Mr. SHIMATANI Hiroyuki
Mr. SHIMATANI Hiroyuki was born in 1953. He graduated from the Department of Fine Arts, Faculty of Education, Tokyo University of Education. He is President of Independent Administrative Institution National Institutes for Cultural Heritage, and Executive Director at Kyushu National Museum. He began his career as an assistant curator in the Calligraphy Division of Tokyo National Museum in 1984. He went on to serve in the same museum as the Senior Manager of the Calligraphy Section, the Senior Manager of the Historical Materials and Ethnology Division, the Senior Manager of the Exhibition Division, the Director of Cultural Property, the Director of Curatorial Research, and the Executive Vice Director (the Research Coordinator of National Institutes for Cultural Heritage Secretariat). His recent publications include Nihon no Bijutsu (Arts of Japan) 519: Wayo no sho (Japanese-style Calligraphy; August 1, 2009, Gyosei Corporation), Nihon no Bijutsu (Arts of Japan) 504: Bunjin no Sho (Calligraphy of Scholars; May 10, 2008, Shibundo Publishing), and Sho no Bi (Beauty of Calligraphy; July 15, 2013, Mainichi Shimbun Publishing Inc.). He was a member of the Textbook Approval and Research Council (Ministry of Education, Culture, Sports, Science and Technology) and the Japanese National Commission for UNESCO (MEXT). He is currently chair of Cultural Councils Cultural Property Subcommittee and Museum Subcommittee for MEXT.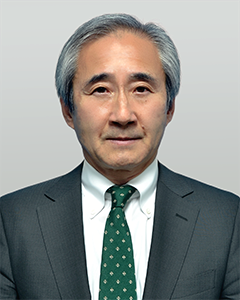 Mr. SUGIURA Yasuyuki
SUGIURA Yasuyuki has been serving as Managing Director of Toyo Bunko (The Oriental Library) since June 2017. After graduating from the Faculty of Economics at the University of Tokyo, he joined Mitsubishi Corporation in 1978. He first started his career in steel related business and then served as the GM of Mitsubishi's Washington D.C. office from 1998 to 2003. And eventually assumed the position of President and CEO of Mitsubishi Corporation (Americas) from 2013 to 2016. He now serves as an advisor to the company. During his time at Mitsubishi, he served a total of 15 years in the U.S. with three stints in New York as well as one in Springfield, OH and Washington D.C. In 2016, he was a Visiting Fellow at Harvard University's Asia Center for one year and now serves as a member of its International Advisory Board. He also serves as one of the panelists for the final selection of the Tsinghua University's Schwarzman Scholars MBA Program. He also serves on the board of several listed companies in Japan.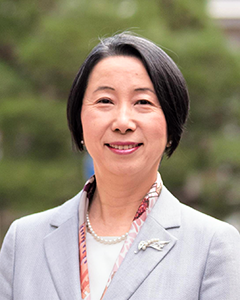 Dr. TAKAHASHI Yuko
TAKAHASHI Yuko was named the eleventh President of Tsuda College (now Tsuda University) in 2016. With a B.A. (American Studies) from Tsuda College, an M.A. in International Affairs from the University of Tsukuba, an M.A. in History and a Ph.D. in Education from the University of Kansas, she is also a Professor in the Department of English at Tsuda University. Her major research areas are American studies, American social history, and gender history. She currently serves as President of the International Federation for Research in Women's History and was President of the Japanese Association of American Studies from 2018 to 2020. She is a member of the board of trustees for the American Studies Foundation and a Council Member of the Science Council of Japan. She was a Fulbright visiting scholar at Stanford University (2003-04) as well as Wellesley College (2013-14), and she is particularly interested in leadership education for the next generation at women's colleges in both the U.S. and Japan.
Her numerous publications include Umeko Tsuda: A Social History and Umeko Tsuda and Those Who Supported (co-editor and author).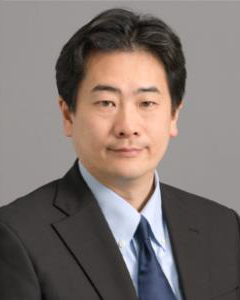 Dr. TSUCHIYA Motohiro
Dr. TSUCHIYA Motohiro is Vice-President for Global Engagement and Information Technology at Keio University and Professor at Keio University Graduate School of Media and Governance. He served as Dean of Faculty of Policy Management at Keio University from October 2019 to July 2021. He is also serving as guest editorialist of Nikkei since April 2019. He is a member of Space Security Division of the Committee on National Space Policy at the Cabinet Office. He authored Intelligence and National Security (Tokyo: Keio University Press, 2007, in Japanese), Cyber Terror (Tokyo: Bungeishunju, 2012, in Japanese), Cyber Security and International Relations (Tokyo: Chikura Shobo, 2015, in Japanese), Cyber Great Game (Tokyo: Chikura Shobo, 2020, in Japanese) and co-authored Cybersecurity: Public Sector Threats and Responses (Boca Raton, FL: CRC Press, 2012) and 40 other books. He earned his BA in political science, MA in international relations, and Ph.D. in media and governance from Keio University. He received 15th Nakasone Yasuhiro Award in 2019.
---
Ex-Office Members: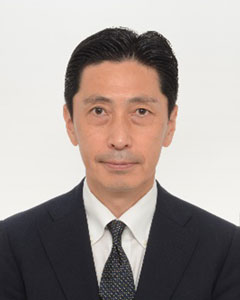 Mr. KANAI Masaaki
Mr. KANAI Masaaki is Assistant Minister, Director-General for Cultural Affairs of the Ministry of Foreign Affairs of Japan (MOFA). After joining MOFA in 1992, KANAI held various positions including Director of Second Middle East Division, Director of Northeast Asia Division, Director of Second Northeast Asia Division and Director of Personnel Division. His assignments abroad include counsellor, Embassy of Japan in the United States. In 2021, he served as Deputy Assistant Minister and Deputy Director-General, North American Affairs Bureau before assuming his current position in July 2022.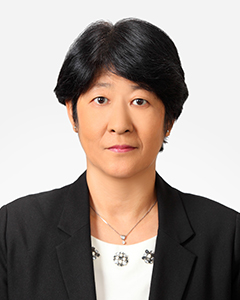 Ms. OKAMURA Naoko
Ms. OKAMURA Naoko is the Assistant Minister, Director-General for International Affairs at the Ministry of Education, Culture, Sports, Science and Technology (MEXT).
After joining the Science and Technology Agency (STA, currently overseen by MEXT) in 1990, Ms. OKAMURA held various positions including Counsellor of the Mission of Japan to the European Union (2008-2011); Counselor of the Office of Health and Medical Strategy in the Cabinet Secretariat; Director of the Atomic Energy Division of the Research and Development Bureau; Director of the Materials Science and Nanotechnology Division of the Research Promotion Bureau; Director of the Policy Division; and Deputy Director-General of the Space Development Strategy Headquarters of the Cabinet Office. She also currently serves as the Secretary-General of the Japanese National Commission for UNESCO, and as the Co-Chair of the Japan-U.S. Educational Commission (JUSEC).
Ms. Okamura earned a M.S. in Chemical Science and Engineering at the Tokyo Institute of Technology, and studied at Cornell University, U.S.A., as a Fulbright grantee from 1996 to 1997, earning a Master of Professional Studies in International Development at Cornell University.
---
Advisors: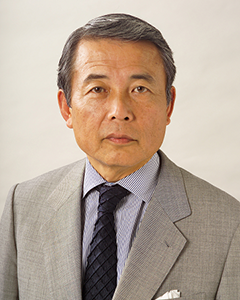 Mr. ASO Yutaka
Mr. ASO Yutaka is Chairman of Aso Corporation and Chairman of Aso Cement Co., Ltd.
After graduating from New College, Oxford, U.K. Special Diploma in 1972, he joined Aso Cement Co., Ltd. and was appointed President and CEO and President of Aso Juku Educational Foundation in 1979. He became Chairman of Aso Corporation in 2010, and Chairman of Aso Cement Co., Ltd in 2016.
He held many prominent positions, such as Vice Chairman of Japan Cement Association, President of Educational Corporation Fukuoka Futaba School, Chairman of Kyushu Economic Federation, Vice Chairman of Japan-Korea Economic Association.