General Instructions
Introduction to the Japan Foundation
The Japan Foundation conducts programs in the three major areas of Arts and Cultural Exchange, Japanese-Language Education Overseas, Japanese Studies and Intellectual Exchange, as well as Strengthening Cultural Exchange in Asia. There are applicable programs in each of these areas, and support is provided for activities conducted by individuals and organizations that are involved in international exchange.
The Japan Foundation organizes various programs to introduce the various aspects of Japanese culture and arts to regions across the globe. In addition, it contributes to international society through arts and cultures by interactive collaboration/coproduction and efforts on global common issues.
To make the Japanese-language easier to learn and teach, the Japan Foundation develops infrastructures and environments for Japanese-language education overseas. In addition, it promotes Japanese-language education according to the circumstances by country and region through various activities, such as dispatching Japanese- language specialists and conducting Japanese-language training.
Programs in this field aim to encourage a greater understanding of Japan thorough supporting and promoting Japanese studies overseas. The Japan Foundation promotes dialogue about international common issues and develops human resources who play a key role in future dialogue and exchange initiatives.
The Japan Foundation Center for Global Partnership has also been established as the division that is primarily responsible for intellectual exchange in the United States.
The Japan Foundation Asia Center aims to foster awareness of empathy and coexistence as neighbors who live together among the residents of Asia through exchange and collaboration. To that end, it implements projects in diverse fields, such as art and culture, sports, Japanese-language education and academic exchange.
Each of these categories includes programs that are open to applications from the public to support international exchange activities by individuals and organizations. In addition to these programs and activities, the Japan Foundation provides information on international cultural exchange through media such as its website and Library.
Application Procedures
Reference: Application flow-chart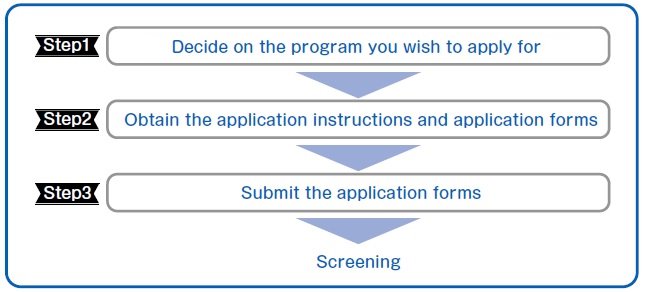 Step1: Decide on the program that you wish to apply for
Refer to the Program Guidelines for Fiscal Year 2016 and identify the program that matches the project that you or your organization is planning.
The areas and countries that are eligible for the Japan Foundation programs are provided in "List of Applicable Areas and Countries in the Japan Foundation Programs for Fiscal Year 2017". (See the table below.) As there are programs that are applicable only for projects related to some areas and countries, please read the explanation about each program carefully to find out if your area or country is eligible.
Table: List of Applicable Areas and Countries in the Japan Foundation Programs


(as of September 2016)

| Regions | Countries |
| --- | --- |
| East Asia | People's Republic of China, Hong Kong, Japan, Republic of Korea, Macau, Mongolia, Taiwan |
| Southeast Asia | Brunei, Cambodia, Indonesia, Laos, Malaysia, Myanmar, Philippines, Singapore, Thailand, Timor-Leste, Vietnam |
| South Asia | Bangladesh, Bhutan, India, Maldives, Nepal, Pakistan, Sri Lanka |
| Oceania | Australia, Cook Islands, Fiji, Kiribati, Marshall, Micronesia, Nauru, New Zealand, Niue, Palau, Papua New Guinea, Samoa, Solomon, Tonga, Tuvalu, Vanuatu |
| North America | Canada, United States of America |
| Central America | Antigua and Barbuda, The Bahamas, Barbados, Belize, Costa Rica, Cuba, Dominica, Dominican Republic, El Salvador, Grenada, Guatemala, Haiti, Honduras, Jamaica, Mexico, Nicaragua, Panama, Saint Christopher and Nevis, Saint Lucia, Saint Vincent and the Grenadines, Trinidad and Tobago |
| South America | Argentina, Bolivia, Brazil, Chile, Colombia, Ecuador, Guyana, Paraguay, Peru, Suriname, Uruguay, Venezuela |
| Western Europe | Andorra, Austria, Belgium, Cyprus, Denmark, Finland, France, Germany, Greece, Iceland, Ireland, Italy, Liechtenstein, Luxembourg, Malta, Monaco, Netherlands, Norway, Portugal, San Marino, Spain, Sweden, Switzerland, United Kingdom, Vatican |
| Eastern Europe | Albania, Armenia, Azerbaijan, Belarus, Bosnia and Herzegovina, Bulgaria, Croatia, Czech Republic, Estonia, Georgia, Hungary, Kazakhstan, Kyrgyz Republic, Kosovo, Latvia, Lithuania, Former Yugoslav Republic of Macedonia, Moldova, Montenegro, Poland, Romania, Russia, Serbia, Slovakia, Slovenia, Tajikistan, Turkmenistan, Ukraine, Uzbekistan |
| Middle East | Afghanistan, Bahrain, Iran, Iraq, Israel, Jordan, Kuwait, Lebanon, Oman, Palestinian Interim Self-Government Authority, Qatar, Saudi Arabia, Syria, Turkey, United Arab Emirates, Yemen |
| North Africa | Algeria, Egypt, Libya, Morocco, Sudan, Tunisia |
| Africa | Angola, Benin, Botswana, Burkina Faso, Burundi, Cameroon, Cape Verde, Central Africa, Chad, Comoros, Democratic Republic of the Congo, Republic of Congo, Cote d'Ivoire, Djibouti, Equatorial Guinea, Eritrea, Ethiopia, Gabon, The Gambia, Ghana, Guinea, Guinea-Bissau, Kenya, Lesotho, Liberia, Madagascar, Malawi, Mali, Mauritania, Mauritius, Mozambique, Namibia, Niger, Nigeria, Rwanda, Sao Tome and Principe, Senegal, Seychelles, Sierra Leone, Somalia, Republic of South Africa, South Sudan, Swaziland, Tanzania, Togo, Uganda, Zambia, Zimbabwe |
Step2: Obtain the application instructions and application forms
Once you have decided on the program that you wish to apply for, download the application instructions and application forms from the website. The application instructions for each program provide detailed information that could not be included in this booklet due to space limitations. Hence, if you are considering applying for a particular program, please read the instructions carefully before submitting your application. If you wish to obtain a hard copy of the application instructions and application forms, please inquire with the submission offices listed in the next section.
Step3: Submit the application forms
(1)Where to submit application forms
After completing the necessary sections in the application forms, please submit the forms, together with any attachments, to the following offices.
Please refer to this page to find out where to submit applications for the Performing Arts Japan program.
(2)Points to note in submitting an application
(a)

If you are applying for a program from overseas, please check with the specified submission office via telephone or e-mail on where to submit your application and your eligibility for the program before submitting your application.

(b)

If you wish to receive a notification of receipt of your application, please enclose a reply card (with stamps affixed) that is blank on one side. Please write the reply-to address on the card beforehand. A notification of receipt will be sent to you using this card.

(c)

We do not accept applications via e-mail or fax.
(3)Other points to note
(a)

Exchange projects with Taiwan
The Japan Foundation cooperates with the Interchange Association, Japan, on exchange projects with Taiwan. The Japan Foundation will not provide support to a project if it is eligible for programs of the Interchange Association, Japan. For further information about Taiwan projects, please read the application instructions for the respective program, and contact the section in charge at Japan Foundation domestic offices or the Interchange Association, Japan, Taipei office where necessary.
Screening
(1)Selection policy
Screening is carried out from the following perspectives across the board for all programs.
Need for the Japan Foundation to provide support/implement the project
Feasibility and effectiveness of the project
Validity of the proposed budget
For other selection policies that are applicable to each individual program, please refer to the respective program instructions.
(2) Projects related to commemorative events of the Exchange year
Applications related to the commemorative events of the Exchange year will be given higher priority in the screening process. Applicants should specify the relevance of their projects to commemorative events (if any) in the application form.
Applicable commemorative events of the Exchange year are scheduled to be listed on the Japan Foundation website.
*Please refer to the Program List for examples of projects which have been accepted in recent years.
Implement the Project
(1)Read the terms and conditions and submit acceptance and payment forms
The Japan Foundation fixes the terms and conditions for each of the Japan Foundation's programs in supporting the project. The conditions are contained in the "Terms and Conditions of Grant" section attached to the notification letter of acceptance. After reading the conditions, please notify the Japan Foundation of your acceptance using the designated form.
(2)Implement the project and submit a final report
Please implement your project following the procedure and conditions for the relevant program as well as the plan and purpose of your project written in the application form. In principle, you must obtain approval from the Japan Foundation before making any major changes to the plan or postponing/canceling the project. A final report has to be submitted promptly to the Japan Foundation when your project is completed. Please note that grantees in some programs may be asked to report the participants' questionnaire results, media coverage, and the number of project participants.
Eligibility
Please check the following items before applying for an applicable program.
(1)

The project is not for the advancement of specific political or religious views.

(2)

(In the case of an organization) One or more of the following, (a) to (c), are not applicable to your organization.

(a)

Japanese government (including national institutions), local public organizations (including public universities, public junior high schools, public high schools, and other public institutions), government-affiliated organizations, incorporated administrative agencies,
local incorporated administrative agencies, national university corporations (including public junior high schools and public high schools)

(b)

Governments of other countries (including administrative agencies such as ministries and agencies, but excluding research and educational institutions), foreign diplomatic missions in Japan

(c)

International organizations (intergovernmental organizations that the Japanese government contributes to)

(3)

(In the case of an overseas organization) The organization has a bank account for receiving grants, or is able to set up a bank account before the grant payment period.

(4)

The receipt of a grant or other form of subsidies from the Japan Foundation is not in violation of any laws or regulations in the applicant's country.
Points to Be Noted
1. Disclosure of Information
a)

If the project is selected, information relating to the name of the applicant, name of the project, and overview of the project will be disclosed in the

Kokusai Koryu Kikin Jigyo Jisseki (Detailed Annual Report of the Japan Foundation Activities)

on the Japan Foundation's website, and in other public-relations materials.

b)

When a request for information based on the "Law Concerning the Disclosure of Information Held by Independent Administrative Institutions, Etc." (Law No. 140 of 2001), is received by the Japan Foundation, materials such as submitted application forms will be disclosed (unless stipulated by law as not to be disclosed).
2. Protection of Personal Information
a)

The Japan Foundation handles personal information appropriately and in accordance with the Law Concerning Access to Personal Information Held by Independent Administrative Institutions (Law No. 59 of 2003) . Details of the Japan Foundation's personal information protection policy can be reviewed at the website.

b)

Personal information to inform recipients of grants of other Japan Foundation activities or to send recipients of grants public-relations materials, as well as for screening, implementation, and evaluation procedures of projects. Personal information provided in the application forms, such as a grantee's name, affiliation and project overview, is used in procedures such as screening, project implementation, and ex-post evaluation. It is also carried in the Detailed Annual Report of the Japan Foundation Activities, the Annual Report, on the Japan Foundation website, and in other public-relations materials. Personal information is also used for purposes such as the compilation of statistics. For details regarding the use of personal information in each program, please refer to the application instructions for each program.
3. Legal Regulations applicable to Grants from the Japan Foundation
The Japan Foundation Grant Programs are operated in accordance with relevant Japanese laws including the "Law for the Proper Execution of a Budget Relating to Subsidies" (Law. No. 179 of 1955) as specified in Article 13 of the "Independent Administrative Institution Japan Foundation Law" (Law. No. 137 of 2002). Please also refer to "Terms and Conditions for a Grant"(PDF:30.1KB).
Adobe Reader software is available for free download from the Adobe Systems web site. To download and install Adobe Reader,
click on this link

and follow the instructions given for your operating system.