Publication
The Foundation's work aims to inspire interest in Japan through visual media and includes broadcasting Japan's TV programs overseas, holding film festivals, and supporting the screening of Japanese films at international film festivals.
To promote Japanese literature, it publishes a newsletter, finances the translation and publication of Japanese books, and participates in international book fairs.
The Japan Foundation provides support to projects relating to translating and/or publishing Japanese works on Humanities, Social Sciences and the Arts and publishing books introducing Japanese culture written in foreign languages.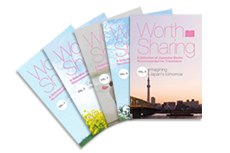 In order for effective international exchange in the field of publication, the Japan Foundation publishes "Japanese Book News" and provides a database of Japanese literature translated into foreign languages.