Publication
To promote Japanese literature, it provides information related to Japanese literature and financial supports to overseas publishers who plan to translate and publish Japanese books. It also helps to build networks and promotes cultural exchanges among authors, translators, and editors.
The Japan Foundation provides support to projects relating to translating and/or publishing Japanese works on Humanities, Social Sciences and the Arts and publishing books introducing Japanese culture written in foreign languages.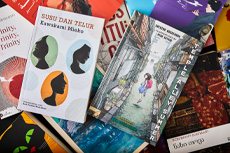 In order for effective international exchange in the field of publication, the Japan Foundation provides a database of Japanese literary works translated into foreign languages.