International Exhibition Participation
The Japan Foundation responds to requests by dispatching both artists and works of art to be displayed at such international art exhibitions as biennales and triennales.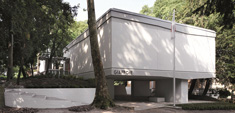 ©PEPPE MAISTO
The Japan Foundation organizes Japan's national participation at the Venice Biennale.
The first full-scale renovation of the Venice Biennale Japan Pavilion since it was constructed had been completed, and the pavilion has reopened in all its new glory in 2014.
Archives
[Contact Us]
The Japan Foundation
Arts and Culture Dept.
Visual Arts Section Tel: +81-(0)3-5369-6061