London Design Biennale 2016
Yasuhiro Suzuki "A Journey Around the Neighbourhood Globe"
The Japan Foundation officially participates in the London Design Biennale 2016, and presents artworks of Yasuhiro Suzuki. The biennale will be held at Somerset House September 7 – 27, 2016, bringing together design installations and exhibitions from over 35 countries to the heart of London.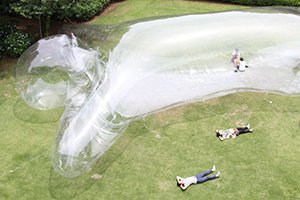 Large-sized Aerial Being © Yasuhiro Suzuki
Installation view at Musashino Art University, 2016
Outline
London Design Biennale 2016
Outline of Japan Official Participation
Overview
Title
A Journey Around the Neighbourhood Globe
Participating Artist
Yasuhiro Suzuki
Curatorial Advisor
Noriko Kawakami
Dates
Wednesday, September 7 - Tuesday, September 27, 2016
Commissioner
The Japan Foundation
Advisory Committee
Hiroshi Kashiwagi (Design Critic/Professor, Musashino Art University)
Motomi Kawakami (Designer/Representative, Kawakami Design Room)
Kozo Fujimoto (Artistic Director/Corporate Advisor, JIN CO., LTD.)
Noriko Kawakami (Journalist/Associate Director of 21_21 DESIGN SIGHT)
In cooperation with
WOW inc.
Mediaturge Inc.
ROCKET Project (Research Center for Advanced Science and Technology, The University of Tokyo)
Artist Profile
Yasuhiro Suzuki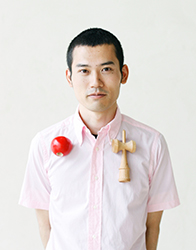 Photo: Masako Nakagawa
Yasuhiro Suzuki was born in 1979 in Shizuoka, Japan. He graduated from Department of Design, Tokyo Zokei University in 2001 and is currently an associate professor at Scenography, Display and Fashion Design of Musashino Art University, and a visiting researcher at the University of Tokyo's Research Center for Advanced Science and Technology (Nakamura Lab). Using unexpected everyday discovery as a motif, he produces works, which remind us of our memories and arouse our empathy. Besides taking part in exhibitions held at Japan and abroad, he tackles actively public space projects and collaborations with companies and university research institutions. His major solo exhibitions include Neighborhood Globe (Contemporary Art Center, Art Tower Mito, 2014). He received a Mainichi Design Award in 2014. The collection of his work Neighborhood Globe, was published by Seigensha Art Publishing in 2015.
About London Design Biennale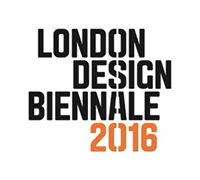 The London Design Biennale will provide a stage for over thirty countries to bring the best of their national design talent to London to discuss, debate and celebrate the possibilities of future design innovation.
The theme for 2016 is "Utopia by Design," celebrating the 500th anniversary of the publication of Thomas More's classic, and to reflect on the rich, contentious history of the modernist design it inspired.
The London Design Biennale is founded by the team behind the London Design Festival. It will overlap with the Festival, bringing a new international element to London, complementing its citywide programme of commissions and partner events every two years, reinforcing London's reputation as the design capital of the world.
Press Release
London Design Biennale 2016 Yasuhiro Suzuki " A Journey Around the Neighbourhood Globe"
[Contact Us]
The Japan Foundation
Arts and Culture Dept.
Person in charge: Nariyama (Ms.), Harada (Mr.)
Tel: +81-(0)3-5369-6063
E-mail: london@jpf.go.jp
(When sending an e-mail, please enter a half-width character "@" instead of a full-width character "@.")