Support Programs for Translation and Publishing
The Japan Foundation provides support to projects relating to translating and/or publishing Japanese works on Humanities and Social Sciences.
The Japan Foundation provides financial assistance for foreign publishers to translate and/or publish Japan-related books. The grant shall cover part of the translation cost and/or publishing cost (paper cost, plate-making cost, printing cost, binding cost, etc.).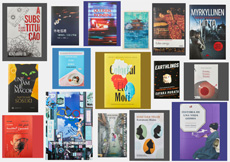 (c)2018-2021: Estação Liberdade, Asian Culture Publishing, Nhã Nam Publishing and Communications, Diogene Publishers, Kustantamo Punainen Silakka, OMBRA GVG, Grove Atlantic, Counterpoint Press, Éditions Dalva, Mahrousa for Publishing, Press & Information Services, 21lettere, Restless Books, Moooi Pustaka, Tanuki Libros
The titles recommended in this publication are works that the Japan Foundation would also prioritize for its own support program, provided the translations are of adequate quality and appropriate publication plans are submitted.
In partnership with the Japanese Board on Books for Young People (JBBY), the Japan Foundation has added 59 Japanese children's books to its list of books recommended for translation to other languages.
The Japan Foundation
Arts and Culture Dept.
Planning and Coordination Section
Tel: +81-(0)3-5369-6060