Japanese-Language Specialists Dispatch Program
The Japan Foundation dispatches Japanese-Language Senior Specialists, Japanese-Language Specialists, and Japanese-Language Assistants, to the overseas offices of the Japan Foundation, Ministries of Education, and institutions of higher and secondary education in various countries.
Japanese-Language Senior Specialists and Japanese-Language Specialists are specialists in Japanese-Language education. These specialists give advice for establishing curriculums, producing educational materials, and developing networks of teachers in the country or region in order to contribute to the establishing environments for Japanese-language education overseas, or teach at the Japanese-language courses in our overseas offices and other institutions.
Japanese-Language Assistants support Japanese-language education overseas while gaining experience under the guidance of the Japanese-Language Senior Specialists and the Japanese-Language Specialists. This program also aims to develop human resources who can assume an active role in the field of Japanese-language education overseas in the future.
Regarding the U.S., following the 2010 Yokohama Summit agreement, J-LEAP (Japanese Language Education Assistant Program) was created to achieve increased dialogue between Japanese and American youth, as well as to support Japanese-language teaching in the U.S. The Japan Foundation in cooperation with the Laurasian Institution organizes the program and dispatches Japanese-Language teaching assistants to U.S. K-12 educational institutions for a period of up to two academic years.
In addition, as a part of Grassroots Exchange Network-Japan Program ("GEN-J"), Japanese-Language Supporters were also dispatched to local community centers including the America-Japan Society, Inc. located mainly South and West Central states in the U.S., aiming to strengthen the relationship between Japanese companies operating in the U.S. and the local communities in the U.S. as well as to promote a better understanding of Japan through their grassroots activities.
(The Japan Foundation in cooperation with the Laurasian Institution organizes both Japanese Language Education Assistant Program ("J-LEAP") and Grassroots Exchange Network-Japan Program ("GEN-J"))
As of fiscal 2019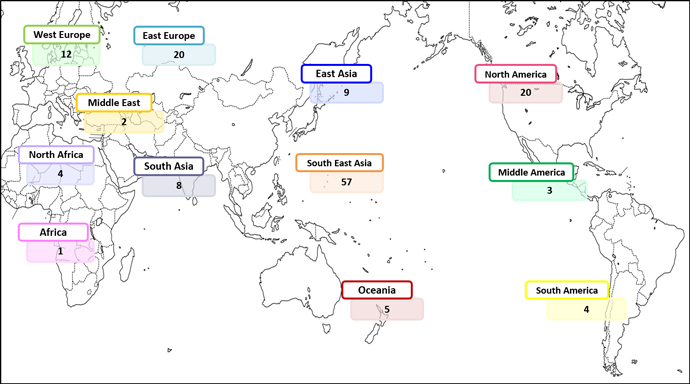 Senior Specialists:
32
Specialists:
82
Assistants:
12
J-LEAP (Japanese-Language Education Assistant Program)
12
Japanese-Language Supporters
7

---

Total:
145