The Japan Foundation Awards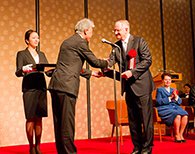 Every year since 1973, the Japan Foundation has presented the Japan Foundation Awards to individuals and organizations that have made significant contributions to promoting international mutual understanding and friendship between Japan and other countries through academic, artistic and other cultural pursuits. Fiscal year 2023 marks the 50th anniversary of the Japan Foundation Awards.
We are now accepting nominations for the Japan Foundation Awards 2023. (Deadline: Tuesday, February 28, 2023)
*Nominations have been closed.
[Contact Us]
The Japan Foundation Public Relations Dept.
Tel. +81-(0)3-5369-6075