Greetings from the Executive Director
Greetings from the Executive Director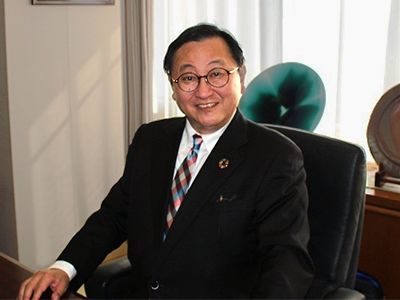 As of April 2022, I have been appointed Executive Director of the Japan Foundation Japanese-Language Institute, Kansai, taking over from former Executive Director, Mr. AKAGI Osamu.
The Japan Foundation Japanese-Language Institute, Kansai (hereafter the Institute) was established in Rinku Town on the bank across from Kansai International Airport in 1997 as the Foundation's principal center dedicated to facilitate and promote the quality education of Japanese as a foreign language, equipped with residential training facilities. Since our establishment, the Institute has deepened ties between Japan and the global community through the development of variety of Japanese language education support projects that match the learners' professional/learning needs. We have contributed to the development of Japanese language education in the world by actively promoting various projects that include inviting not only Japanese language learners and teachers but also experts in Japanese culture and academia, as well as diplomats and public officials from various nations. The Institute has also developed websites for Japanese language education and promotes using the internet to learn Japanese (e-Learning).
With the worldwide spread of COVID-19 since 2020, it has become difficult to host Japanese language learners from abroad for onsite training in Japan, but through the expansion of e-Learning materials, we have continued to implement our Japanese language education support projects by offering Japanese language training and cultural experiences online. Hereafter, when circumstances permit, we intend to resume face-to-face training and projects while making the best use of our online materials and activities.
Language is extremely precious software for international exchange and cross-cultural communication. Without Japanese language, it is difficult to convey or grasp the subtler aspects of Japanese society and culture. The Institute plays a major role in expanding the scope of Japanese language in the world to promote a better understanding of Japan and ultimately creating mutual understanding.
In addition, the Institute receives tremendous support from the residents of Minami Osaka and the area. By interacting directly with the local people, the participants are able to further absorb the Japanese language and culture. The local residents too, have expressed the joy of widening their circle of friends through exchanges. It gives us great pleasure that we are contributing to internationalization in the community.
The Institute is now ready to celebrate our 25th anniversary. By further deepening and developing mutual understanding through the international exchange of people and culture with a focus on the Japanese language, we will continue to contribute to Japan and the world. We look forward to your continued cooperation and support.
April 2022
HOSHINO Toshiya
Executive Director
The Japan Foundation
Japanese-Language Institute, Kansai