Access
Time Required to Get to the Institute
From Kansai International Airport: 15min. by car
From Rinku Town Station on JR and Nankai Railway: 5min. by car, 20min. walk
Expressway Exit
Izumisano-minami Exit on Hanshin Expressway Wangan route
Izumisano I.C. on Kansai International Airport Expressway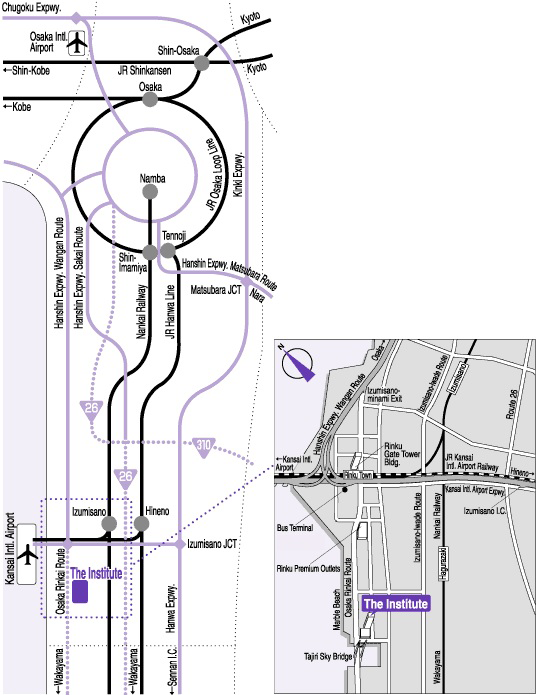 Free Shuttle Bus
We operate a free shuttle bus service between Rinku Town Station and the Institute.
The shuttle bus schedule can be changed without prior announcement. The service is available for visitors only.
Rinku Town Station
Environment Surrounding the Institute
The Japanese-Language Institute, Kansai is located in Rinku Port, which overlooks Kansai International Airport. Facing Osaka Bay and rich in natural beauty, the town allows students to concentrate on their studies. Supermarkets and convenience stores are located in the surrounding area, making most things necessary for daily life available within walking distance.
Tajiri has long thrived through its agricultural and fishing industries. It is also widely known for its onions. A morning market is held every Sunday at Tajiri Fishing Port, located near the institute, and is a popular tourist spot among local residents. A large mall housing outlet shops is also located next to Rinku Town Station, attracting many shoppers to the area, especially on weekends and holidays.