Greetings from the Executive Director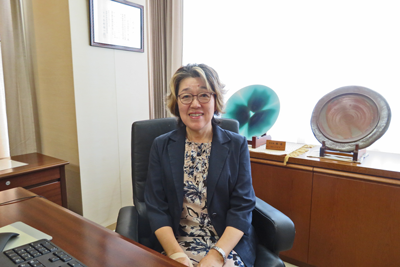 I am pleased to announce that I have assumed the position of Executive Director of the Japan Foundation Japanese-Language Institute, Kansai, from August 2023, succeeding former Acting Executive Director, SUZUKI Masayuki. For many years I have been involved in Japanese-language education at the former Osaka University of Foreign Studies and Osaka University, so I am deeply honored.
The Japan Foundation Japanese-Language Institute, Kansai (hereafter the Institute), was established in Rinku Town on the bank across from Kansai International Airport in 1997 as the Foundation's principal center dedicated to facilitating and promoting quality education of Japanese as a foreign language, equipped with residential training facilities. Since our establishment, the Institute has deepened ties between Japan and the global community through the development of a variety of Japanese-language educational support projects that match the learners' professional/ learning needs. We have contributed to the development of Japanese-language education in the world by actively promoting various projects that include inviting not only Japanese-language learners and teachers, but also experts in Japanese culture and academia, as well as diplomats and public officials from various nations. The Institute has also developed websites for Japanese-language education and promotes using the Internet to learn Japanese (e-Learning).
Due to the global spread of the coronavirus at the beginning of 2020, it had become difficult to conduct Japanese-language training programs to invite Japanese-language learners from overseas, but we have continued our Japanese-language education support by providing online Japanese-language training, offered Japanese cultural experiences, and expanded our e-learning materials. From FY2023, we have resumed face-to-face training programs while utilizing the knowledge of online resources.
Language is an extremely precious type of software for international exchange and cross-cultural communication. The Japanese language is an extremely important tool for conveying the finer details of Japanese society and culture. The Institute plays a major role in expanding the scope of the Japanese language in the world to promote better knowledge of Japan and ultimately to bring about better mutual understanding. The situation surrounding Japanese-language education in Japan and abroad has been very active recently, and we hope to make the most of the strengths and the progress that we have made to date.
In addition, the Institute receives tremendous support from the residents of Minami Osaka and the area. By interacting directly with the local people, the participants can further absorb the living Japanese language and culture onsite. The residents too, have expressed the joy of widening their circle of friends through several exchange activities. It gives us immense pleasure that we are contributing to internationalization in the community.
We have continued to contribute to Japan and the world by promoting the further deepening and development of mutual understanding through the international exchange of people and culture, with a focus on the Japanese language. We humbly look forward to your continued warm support.
August 2023
MAJIMA Junko
Executive Director
The Japan Foundation
Japanese-Language Institute, Kansai