Library
The library collects and provides mainly reference books to support Japanese language study and training programs of participants during their stay in Japan, as well as materials introducing Japanese culture and society at large.
OPAC
About the library
Library Hours
Monday to Friday From 10:30am to 6:00pm
Library closed
Saturday, Sunday, National holidays, Year-end and New year's holidays, any other holidays will be notified.
For Visitors: Please check this library calendar.
[Contact Us]
The Japan Foundation
Language Institute, Kansai Library
E-mail: k_lib@jpf.go.jp
(When sending an e-mail, please replace the full-width "@" character with a half-width character.)
News
September 1 ,2023 Monthly display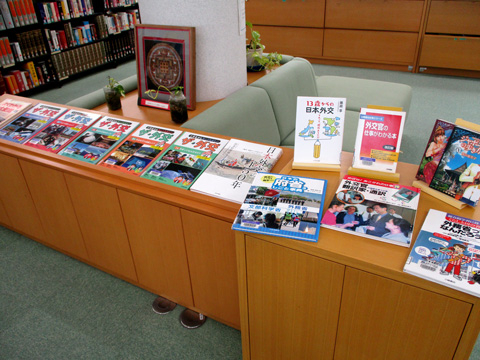 Monthly display theme in September is "Hello! Trainees of Japanese-Language Program for Foreign Service Officers and Public Officials". As we welcome the trainees of the program that starts at the end of September, we have collected books about their countries of origin in order to get to know the countries where they are from. They are from Asia, Africa, the Middle East, Central and South America, and many others. In addition, we have also collected books about foreign service officers. Please take a look at them at the library!
Services
1. Access to the Collection
Using the computers installed in the library, you can search for books held by the library on the OPAC page. In the library, most of bookshelves are open stacks. Books in the open stacks can be freely browsed.
2. Loans
Residents of Japan who are 18 years of age or older can use the book loan service at the library. When you use the service, please bring your own ID card that show your current address. We will create a service card for you. You can also use the inter-library loan service through libraries or public libraries of the institution to which you belong. Please ask your institution's library or public library about details on the service procedures.
3. Copy Service
Only materials in the library may be copied, but only within the limits allowed by Japanese copyright laws.
《How to apply》
Please apply at the library counter with the "Request Form for Photocopying Materials" (self-service: 10 yen per copy / 30 yen per color copy). Please have coins as the photocopiers are coin-operated.
Inter-library photocopy service is also available. Please ask the library of your affiliated institution, or at the public libraries.
4. Reference Service
Admission
The library is open to those who are 18 years old and over.
Before visiting, please contact the library for the detailed information to use.
Collections
The present holdings comprise some 55,181 books
(68% in Japanese and 32% in foreign languages)
306 periodicals
(180 in Japanese and 126 in foreign languages)
6 newspapers in 2 languages
1,679 Video / DVD / LD materials
248 CD-ROM / CD materials
5 online database
Facilities
45 seats (of which 13 are carrels)
2 data base stations
2 audio-visual space
1 photocopier