Educational Resources
Development of Japanese-Language Educational Resources and Teaching Method
JF Standard for Japanese-Language Education
For mutual understanding through language communication, two competences are important: one is in accomplishing tasks and the other is in intercultural understanding obtained by broadened views through experiences in diverse cultures.
Based on this principle, the Japan Foundation developed the JF Standard for Japanese-Language Education (JF Standard) as a tool to help think about teaching, learning and assessing in Japanese. To publicize and promote the JF Standard, we have provided information widely and presented possible uses through seminars and workshops in Japan and overseas.
The new edition of the JF Standard for Japanese-Language Education was published and a pamphlet to widely publicize the JF Standard was also produced.
Also, the manual of the Role Playing Test based on the JF Japanese-Language Education Standard has been developed to measure the instructor's mastery of verbal communication in the teaching environment. It is available on the JF Standard website. The website also provides manuals, testing procedure videos, model voices, and role-play cards in 13 languages, making it convenient for examinees.
Also, the Minna no Can-do website's database was expanded to include 162 new Can-do statements (72 JF Can-do statements and 90 Marugoto Can-do statements).
In addition, we provided grants for seminars, workshops, surveys and symposiums, and sent instructors to explain and demonstrate possible uses and practical application examples of the JF Standard.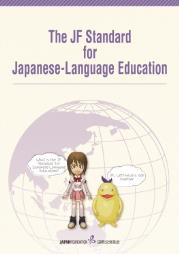 The JF Standard for Japanese-Language Education pamplet. (English)

(Japanese/Espa?ol/
中文
/Bahasa Indonesia/Ti?ng Vi?t)
---
JF Can-do for Life in Japan
The Japan Foundation has developed a new series of Can-do Statements for foreign nationals who are not native speakers of Japanese. These statements, each beginning with "I can ..." and describing an ability to complete a communicative task, are called the "JF Can-do for Life in Japan" and outline the fundamental Japanese skills required for everyday life for foreign nationals living in Japan on a status of residence such as "Specified Skilled Worker." The number of Can-dos on the list amounts to 381 items as of August 2019.
---
ひきだすにほんご Activate Your Japanese!

NEW
ひきだすにほんご Activate Your Japanese! introduces Japanese culture and language mainly to foreign citizens seeking to live and work in Japan and Japanese-language learners who wish to learn about life in Japan.The Japan Foundation has collaborated with NHK Educational Corporation to produce this program. It will be broadcast on television channels and video sites in various countries and made available to classrooms in and out of Japan. On-demand video on NHK WORLD-JAPAN is also available.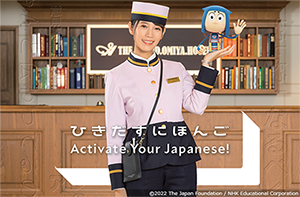 ---
Irodori: Japanese for Life in Japan
The Japanese-language coursebook Irodori: Japanese for Life in Japan is a textbook for foreign people to learn basic Japanese communication skills that are needed for daily life and working in Japan. The basic meaning of the word Irodori is "to color," but it can also mean "to change a thing's shape or appearance and make it more beautiful or more interesting." We chose this title with the hope that this book would help you "color" your everyday life in Japan and make it more fulfilling by enabling you to build language and communication skills for speaking and interacting with the people around you such as your neighbors and coworkers.
The main features of this textbook are:
Content that covers a variety of topics and situations to let you effectively acquire practical Japanese communication skills that you are actually likely to use in your life in Japan
Learning objectives of each lesson are given as Can-do statements, giving you a clear idea of what you will be able to do after studying the lesson.
Topics and grammar points roughly follow those in the previously published Japanese-language coursebook Marugoto: Japanese Language and Culture, which conforms with the JF Standard for Japanese-Language Education.
Appropriate for learning Elementary-level (A2) Japanese for daily life and working in Japan and useful for learners who are preparing for the Japan Foundation Test for Basic Japanese (JFT-Basic)
To make it easy for people anywhere in the world to use this textbook, we are making it available online rather than publishing it as a paper book.
---
Publication of
Marugoto: Japanese Language and Culture
Marugoto: Japanese Language and Culture is a series of coursebooks that puts into practice the way of thinking of the JF Standard. The word marugoto means "whole" or "everything" and was chosen as the title of the series because the course encompasses both language and culture, features real-life communication between people, and allows learners to experience a variety of aspects of Japanese culture.
Since the publication of Starter (A1), in 2013, totally 9 volumes have been published.
Japanese-language education incorporating the JF Language Course and Marugoto is spreading around the world. Seminars for Japanese-language teachers to learn how to use the coursebooks are being conducted in Japan and overseas.
---
Online Education Tools
Our website for assisting Japanese-language teachers provides content for making teaching materials and an online forum for knowledge sharing among teachers. We also have a website for learners to compliment whatever they are learning.
Minna no Kyozai Website Enhanced

Minna no Kyozai website has been assisting Japanese-language teachers since 2002. In response to user's request, we are adding more photographs, illustrations and understanding materials of reading.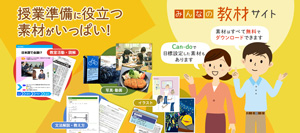 "Erin's Challenge! I can speak Japanese." Contents Library

This site provides videos and related teaching materials set in Japanese high school life. Through this site, learner can increase the amount of "things you can do" in Japanese with confidence, and experience a variety of Japanese culture. (English/Japanese)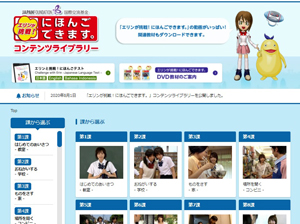 ---
Learning Support Tools
Challenge with Erin ? Japanese-Learning Test ?

The app can be used to study beginner-level vocabulary and expressions in an engaging way through card games, manga and quizzes, and it can also be used to check how much you were able to remember.
(English / Indonesian)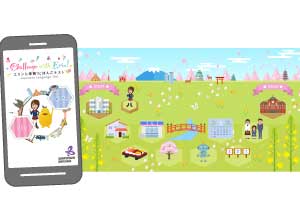 ---
Easy Japanese (NHK WORLD-JAPAN)
The Japan Foundation Japanese-Language Institute, Urawa has supervised, depending on the JF Standard, the new series of "Easy Japanese*" program, broadcasted all over the world by means of short wave broadcastings, podcasts, and on-demand service on the websites by Japan's public broadcaster, NHK WORLD RADIO JAPAN
The course, composed of scenes which tourists overseas are likely to encounter, employs a syllabus, skits, and texts so that listeners can learn all sorts of travel information in Japan and insights into culture and customs as well as useful Japanese expressions.
* The title is used for the English program. It will be translated into each language.
Below is the website of the English program.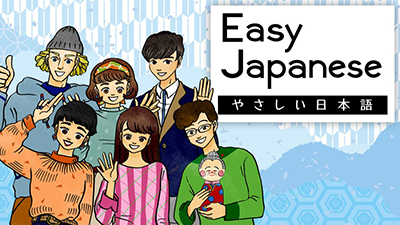 Click "Select language" near the bottom of the page to switch between 21 languages. The languages are; Arabic, Bengali, Burmese, Chinese (simplified), Chinese (traditional), English, French, Hindi, Indonesian, Japanese, Korean, Persian, Portuguese, Russian, Spanish, Swahili, Thai, Turkish, Ukranian, Urdo, and Vietnamese.