Asia-Europe Intercultural City Summit 2012 Hamamatsu
With the progression of globalization, "interculturalism" is becoming an increasingly important theme in international society. In the midst of this, together with promoting partnership between intercultural cities in Asia and Europe, and to share knowledge and experience in order to transmit the importance of interculturalism to the international society, mayors and officials from Asia and Europe will assemble in Hamamatsu for the holding of the "Asia-Europe Intercultural City Summit 2012 Hamamatsu" on October 25th & 26th.
Hamamatsu Declaration (PDF:185KB)
Asia-Europe Intercultural City Summit 2012 Hamamatsu
Dates
October 25th (Thursday) and 26th (Friday)
Venue
Act City Hamamatsu Congress Center
(111-1 Itaya-machi, Naka-ku, Hamamatsu)
Organizers
Hamamatsu City , The Japan Foundation
Co-organizers
Council of Europe , Council of Local Authorities for International Relations (CLAIR)
Supported by
Cabinet Office of Government of Japan, Ministry of Internal Affairs and Communications, Ministry of Foreign Affairs, Japan Intercultural Academy of Municipalities (JIAM)
Participating mayors
Participating mayors

| | |
| --- | --- |
| Japan | Deputy Mayor of Higashiosaka City, Mayor of Ota City, Mayor of Shinjuku City, Mayor of Hamamatsu City |
| Korea | Mayor of Gwangmyeong City, Mayor of Gwangsan-gu, Deputy Mayor of Guro-gu, Deputy Mayor of Cheonan City |
| Europe | Mayor of Employment and Integration, Copenhagen City [Denmark], Vice Mayor of Rotterdam City [The Netherlands], Lord Mayor of Dublin City [Ireland] |
Report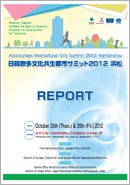 [P.1]

[P.7]

[P.21]

[P.33]

[P.42]

[P.55]

[P.67]

[P.79]

[P.85]

[P.97]

[P.107]

[P.110]

[P.120]

[P.132]
Link
International Symposium on Intercultural Cities in Asia and Europe
Communicate, Collaborate, and Create: Our Communities for Tomorrow~
Inquiry
Europe, Middle East and Africa Section
Japanese Studies and Intellectual Exchange Department, The Japan Foundation
Tel: 03-5369-6071 / Fax: 03-5369-6041
(When sending e-mail, please enter a half-width character "@" instead of a full-width character "@.")
Adobe Reader software is available for free download from the Adobe Systems web site. To download and install Adobe Reader,
click on this link

and follow the instructions given for your operating system.