Opening Address
Opening Address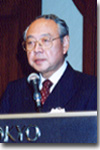 Thank you very much, my name is Fujii, I am the President of the Japan Foundation. First and foremost, thank you very much, ladies and gentlemen, for joining us despite your busy schedule to attend the 2001 Presentation Ceremony of The Japan Foundation Awards and Special Prizes. We are most grateful for your kind attendance. This year marks the twenty-ninth ceremony and presentation of The Japan Foundation Awards and Special Prizes. Thanks to your kind support and understanding we have received recommendations from a great number of people, and through the selection process conducted by the eight-member selection committee, we have been able to determine two recipients of The Japan Foundation Awards and two individuals and one organization as recipients of the Special Prizes. I would like to take this opportunity to extend my heartfelt gratitude to the many people who have recommended possible candidates from various different regions and areas around the world. At the same time, my heartfelt gratitude goes to the members of the selection committee, headed by Chairman Dr. Kawai, for their efforts.

In selecting this year's recipients for The Japan Foundation Awards and the Japan Foundation Special Prizes, we have undertaken a primary selection for some 167 different candidates and candidate groups who were nominated by past recipients, intellectuals within and outside Japan, members of cultural exchange foundations as well as universities and other research institutes, foreign ambassadors in Japan and the heads of Japanese diplomatic missions in overseas countries.

After the primary selection of some 167 different nominations, on July 13, a meeting of the selection committee was held. As a result of an arduous selection process, we have been able to determine and decide on the recipients. The members of the selection committee for this year are as follows, allow me to read their names: Mr. Shinichiro Asao, Mr. Setsuho Ikehata, Mr. Takashi Oshio, Mr. Hayao Kawai, Mr. Hatsuhisa Takashima, Ms. Hiroko Nakamura, Mr. Yoshihiko Miyauchi and Mr. Masakazu Yamazaki. These are the members of the selection committee. Allow me to now introduce the recipients in alphabetical order.

First, Dr. William Gerald Beasley, one of Britain's most distinguished scholars of East Asian history, especially nineteenth century Japanese history. Dr. Beasley has taught Japanese history at the University of London for 35 years and has solidified the foundation of Japanese studies in the United Kingdom and, at the same time, he has contributed significantly to the development of modern Japanese studies abroad. And Dr. Beasley first visited Japan in the capacity of interpreter to the Royal Navy. In the more than half a century since then, he has worked tirelessly to develop Japanese studies in the United Kingdom to nurture the next generation of researchers and for the promotion of mutual understanding between the two countries. Since leaving the University of London in 1983, his contribution has remained very robust and active. In 1999, he published a voluminous 300 page tome depicting Japan from the Middle Ages to the present, under the title of The Japanese Experience: A Short History of Japan. The Modern History of Japan, which he published in 1963, has become the definitive text for modern Japan around the world. In 1990, under his own revision, it was re-titled and published as The Rise of Modern Japan, and has been published in German, Italian, Spanish, Chinese, and Korean as well. I understand that a Greek version is due to be published shortly. Unfortunately, Dr. Beasley is unable to be with us at this time, due to health concerns; however, on his behalf, we are very delighted and honored to be able welcome Dr. Ian Nish and Mrs. Nish who have graciously agreed to attend this ceremony on his behalf. Dr. Nish is a Professor Emeritus at the University of London, a former recipient of The Japan Foundation Awards in 1991, and a close friend of Dr. Beasley over the last 51 years. He is also a foremost authority in modern Japanese studies.

Next, Prof. Hirayama requires no introduction on our part. An acclaimed Japanese artist, he has received international acclaim for producing art on the theme of the spread and propagation of art on the Silk Road. Prof. Hirayama has focused his energy on the preservation and restoration of overseas cultural properties that are in danger of being damaged or destroyed, and he has promoted "Red Cross Spirit for Cultural Heritage," which goes beyond boundaries of nation, race and religion in order to protect the cultural properties of the world through international cooperation. Up until now, he has worked to preserve the restoration of sites such as the Dunhuang caves in China, Angkor Wat in Cambodia, and the Buddhist remains of Termez in Uzbekistan. Also, he has been very active in the restoration of Korea's ancient Koguryo tomb frescos, as well as toward its designation as a UNESCO World Heritage Site. Furthermore, he has worked to rescue works of art housed in the Kabul Museum in Afghanistan, and also toward the production of the Bamyan Buddhist statue. He has also held "Save Afghan" exhibitions in six different locations around Japan, and has been promoting a campaign to preserve and save cultural assets and cultural heritage of Afghanistan. He has also worked to restore works of Japanese art, in overseas museums, such as the Freer Gallery in the United States, the British Museum, and the Musée Guimet in France, to promote human resources to protect cultural assets, and to promote the exchange of personnel. So he has been very active in diverse fields on a global scale. Indeed, Prof. Hirayama is an embodiment of the international cultural exchange carried out by Japan.

Dr. Kosta Balabanov is renowned for his research into the cultural heritage of Macedonia, and he is a historian of whom the former Yugoslavia is proud. In 1967 he made his first visit to Japan as the curator of the medieval icons exhibit that was held in Tokyo National Museum and Kyoto National Museum. Since then, for over 30 years, he has been actively introducing Japanese culture to Macedonia. In Macedonia, where Japanese information does not necessarily abound, utilizing information and materials that he collected on his own, he has continued his activities to introduce Japan. Since 1995, he has been editing and publishing a quarterly Japanese research journal, Akebono, to introduce Japanese politics, economy and culture in the Macedonian language. He has been working toward the promotion of mutual understanding between the two countries. We cannot overestimate efforts by Dr. Balabanov in creating a feeling of amity toward Japan in Macedonia today. Today, people all over the world are assiduously seeking for permanent peace in various parts of the globe, and one such place is Macedonia. If in Macedonia, Japanese culture can contribute to a foundation for building peace, as Japanese we could not be happier. I would like to encourage his activities, and express my hope for his further success. Now we present the Japan Foundation Special Prize.

Mr. Naoyuki Miura has been organizing a series of concerts titled "Music From Japan" for over 25 years, mainly in the United States, since 1975. He has been sending contemporary music from Japan, as the heart of Japan, to the United States and throughout the world. Since it's inception, Music from Japan has been a focus of attention by using various performing artists from Japan and the US—it is a unique cultural exchange. It is comprised of various events such as exhibits of Japanese composers, contemporary opera performances, lectures and symposiums. Including 40 works that were performed for the first time in the world, and works of around one hundred Japanese composers, a total of more than 300 have been introduced. Mr. Miura also established the Resource Center for Japanese Music in 1994, which provides rich materials and wide-ranging information regarding Japanese music. We expect many further activities from Mr. Miura.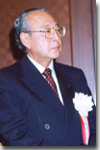 In 1951, the Berliner Festspiele was organized as an executive group to carry out the Berlin Festival, and the Berlin International Film Festival. In the 1960s, the Berlin Contemporary Music Festival, Berlin Theatre Festival, and Berlin Jazz Festival were added to the Berliner Festspiele's portfolio, and it has become a major festival organizer to introduce the world's top-level culture in various fields. Since 1965, special programs on Japan have been organized on a regular basis: "Japan in Berlin" was held in 1981, and "Japan Week" was held in 1987 at the commemorative seven hundred and fiftieth anniversary of the establishment of the city of Berlin. Inter alia, 1999 to 2000, "Japan in Berlin" was the center-piece event of the Japan Year in Germany introducing traditional culture from Japan such as Noh, Kabuki, Bunraku and contemporary music and jazz concerts, major exhibits, a series of Japanese movies, lectures and readings by novelists. Multi-faceted arts from Japan were introduced on this occasion. Today, the Secretary-General of Berliner Festspeile and currently the head of the Martin-Gropius-Bau Museum, which is the exhibit space established in 2000 by Berliner Festspiele, Dr. Gereon Sievernish is with us today. Since 1980, especially in Berlin, he has been instrumental in organizing major cultural and artistic events related to Japan.

These are the recipients of the Japan Foundation Prize, and the Japan Foundation Special Prize. The Japan Foundation will be celebrating its thirtieth anniversary next year. Over the past years, we were able to promote international cultural exchange thanks to the efforts and support of numerous people around the world, including today's recipients. Today, we have with us, the recipient of the Japan Foundation Prize last year, and the Korean Chairperson of the Korea-Japan cultural exchange conference, Mr. Chi Myon Kwan, and many other past recipients. To be able to celebrate this occasion together with all of these distinguished guests is indeed gratifying and we feel very honored.

The world is in a transitional stage, and there is great instability. Diverse cultural symbiosis and solidarity among peoples that cannot be supported alone by governments need to be strengthened and enhanced.

On the part of the Japan Foundation, while receiving guidance, support and cooperation from every one of you, we would like to strengthen and enhance coordination and cooperation with individuals and groups that are engaged in international cultural exchange. We would like to make further efforts toward that end. Last, but not least, in concluding, I wish every one of you, among the recipients and in the audience, increasingly greater success in the future. Thank you.