Speech by Mr. Naoyuki Miura (Japan / President, Artistic Director of Music From Japan Inc.)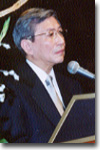 I would like to express my sincere gratitude to the Japan Foundation and the selection committee for presenting me with this prestigious prize. Music From Japan was founded in New York City in 1975. Since its inception, the survival of this non-profit organization has relied on the generous and continued support of the Japan Foundation, the Japan Federation of Composers and the Agency for Cultural Affairs. I am truly grateful for their vital assistance.
I arrived in New York City in 1966 as a Fulbright Scholar to further my studies on the double bass. After performing with various orchestras, I realized how seldom Japanese music was heard in the United States. The average American at that time had limited knowledge of Japan and its music. During my college years I played a broad range of Japanese contemporary music and became aware of the high quality of our composers' works. I wanted to demonstrate the depth and extent of Japanese culture through not traditional but contemporary music beyond the typical images of hi-fidelity audio equipment, electronics, efficient cars, sushi, and tempura. From these aspirations was born a humble project, beginning with a presentation of a chamber music concert at the Japan Society. I never imagined it would continue for more than 25 years.
We invited American musicians to perform these works primarily to enhance the international scope of the Japanese pieces. At times these collaborations revealed unexpected elements in the music. Moreover, we hoped to see the works become a part of the musician's repertoires for further performances. This was a unique way to introduce Japanese culture, and small ripples slowly spread to make visible waves. However, it was not an easy task to persuade Americans accustomed to the loud rhythms of rock music to appreciate subtle sounds, sometimes of an inaudible nature, and delicate melodies often without regular meters. We explored different ways of attracting audiences, from incorporating modern dance in our very first presentation to offering pre-concert bento dinners.
In November 1979, our first Carnegie Hall concert featured Toshirô Mayuzumi's Nirvana Symphony. I performed myself, as a member of the American Symphony Orchestra, and was deeply touched by the standing ovation and extended applause. In later years we presented Akira Miyoshi's Kyomon, sung with dedication by students from a New York City public school. Works by Joji Yuasa, Tôru Takemitsu, Michio Mamiya, Maki Ishii, Sin-ichirô Ikebe, and others have been highly praised on the world stage. The tenth anniversary program in 1985 brought an additional component—symposia on Japanese music were begun in conjunction with the American Music Critics Association to help balance the flow of cultural ideas between Japan and the United States.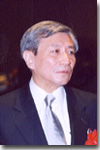 Subsequent seasons expanded to include activities in Washington DC, Los Angeles, Mexico City, and Toronto. In 1995, Music from Japan was presented at the United Nations, and on a concert tour of Brazil and Japan. We ventured farther in 1999 to Central Asia presenting concerts in Kazakhstan and Uzbekistan. Our twentieth anniversary saw an American premiere of Toshirô Mayuzumi's grand opera, Kinkakuji, based on the novel by Yukio Mishima. Along with the opening of the Resource Center for Japanese Music, a Composer Database was created, accessible both on and off the Internet, which serves the needs of the public as the most comprehensive information of its kind in English. We hope to expand and update our site further.
Important developments are constantly brought forth in the realm of Japanese contemporary music. My education was centered around the Western music method at the Tokyo National University of Fine Arts and Music. Although I was exposed to my grandmother's shamisen in my youth, I did not grasp the scope of our traditional music until more recently, when I began to introduce classical and contemporary works for traditional instruments. The long-standing divide between Western music methodology and the Japanese heritage is slowly being reconciled by leading contemporary artists who combine the values of both aesthetics. My dream is to have the works of Japanese composers performed and appreciated internationally alongside those of Bach, Mozart, and Beethoven.
In closing, I would like to acknowledge and thank all those with whom I share this award: the composers and musicians who have helped to bring about our vision. Indeed, none of this would have been feasible without the corporations and foundations that have sustained our efforts financially. Above all, I receive this award with my life partner, both in public and private, who works incessantly to help me make things possible. Thank you very much.