Speech by Kosta Balabanov (Macedonia)
(President of the Society for Macedonian-Japanese Friendship and Cooperation, Honorary Consul-General of Japan in Skopje)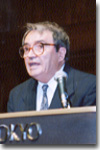 Mr. President,
Ladies and Gentlemen:

During the past ten years of raging wars in the Balkans, and especially during the past six months, during which the flames of these wars have expanded over my small country, the Republic of Macedonia, the life of the people in this region went through tremendous changes, in the negative sense of the word, as did my own life. Engulfed by everyday events, bearing the heavy burden of permeating violence, I felt that my life and the life of my family slowly turned into a nightmare, full of uncertainty and trauma. Even my grandchildren, at the age of seven and eight, would wake up in the morning and first ask if bombs were still exploding and whether we would be next.

Living in such circumstances, the phone call I received from Mr. Akio Ijuin, the Japanese Ambassador to Vienna, informing me that I was the recipient of one of the most prestigious awards of the Japan Foundation, "The Japan Foundation Special Prize for 2001," appeared absolutely unreal to me. I was so taken aback and overwhelmed that it took me several days to understand what had really happened, especially so, because there was no previous indication that I would be honored so greatly.

Then I made an effort to try and remember what I had done in the field of presentation of Japan, especially of Japanese culture and arts within the environment where I live, in order to persuade myself that I really deserved this highly esteemed award, and whether I could receive it with a pure heart and clear conscience, discarding the thought that I was receiving something I did not deserve.

I made a wide retrospective survey of my memories, and recalled that my first visit to Japan in 1967 was in the form of a purely cultural mission. I had been appointed cultural commissioner for one of the most valuable exhibitions of medieval icons that Macedonia, then a constituent republic of Yugoslavia, could offer to the world. I created the concept for the exhibition that was shown in Tokyo and Kyoto. It included the most precious iconographic art kept in Macedonian churches and monasteries. The exhibits had been presented abroad only once before, in one of the pavilions of the Louvre in Paris, and were then taken to Tokyo and Kyoto. The main sponsor of the Macedonian exhibition in Japan was the large publishing house Asahi Shimbun. The exhibition was received extremely well and attended by hundreds of thousands of people.

During my stay of several months in Tokyo and Kyoto, I mainly spent my time in museums. Thus I became acquainted with many Japanese people, as well as with their culture, arts, and customs, about which very little was known in Macedonia. Deeply impressed by what I saw and encountered, by the enormous wealth of the cultural heritage and traditions of Japan, I decided to undertake some concrete steps toward its presentation in Macedonia. For the first time in my life, I bought a good camera and I even rented a small video camera with which I recorded everything I thought would arouse the interest of my people. My efforts were fully supported by the manager of the cultural department of the Asahi Shimbun, who, once he had become aware of my genuine interest, enabled me to see and learn as much as I could. During those several months I made more than 3,500 slides and a dozen short documentary films that I took with me upon my return to Macedonia. As soon as I returned, I immediately started to communicate my knowledge about Japan, its culture, arts, science, and technology to the Macedonian people in various ways.

My major interest, bearing in mind my vocation, was focused on culture and arts, so I started to give lectures whenever there was any possibility and wherever there was any interest. I was often invited to art schools, university departments, and eventually, with the rise of television, which in Macedonia was still a new medium, I was given the opportunity to show all my amateur documentary films and comment on them at the same time. I cannot tell you how many lectures and interviews I have given during the past 34 years, but I can say that they left a considerable impact and aroused great interest among those who attended, heard, or read them. I can now assure you that today the common people know much more about Japan than ever before.

In the meantime, many Macedonian people, experts in various fields, have visited Japan. The number of annual scholarships and grants offered by the Japanese government for education and specialization of primarily young people in various fields has dramatically increased. Upon their return to Macedonia they have all spoken excitedly about Japan. Thus the number of true friends of Japan in our country of only two million inhabitants has also drastically increased.

During the last years of the existence of the former Yugoslavia, we heard that a Japanese-Yugoslav Association of Friendship and Co-operation had been formed in Belgrade. Soon after that, we also decided to form such an association in Skopje. We believed that it would give us solid grounds and conditions for better acquaintance with Japanese culture and arts. We established the Association in 1990, and the people who took part in its formation, believing that I would be the best person to chair it, elected me as its President. In the beginning we had neither premises nor decent conditions for our activities, but nevertheless, the enthusiasm displayed on behalf of the Association members brought about a swift growth of its Membership and by the end of the first year of its existence it had 250 registered members. I was re-elected as President several times and now I am in my third four-year mandate. Now the Japanese-Macedonian Association has more than 2,000 registered members. The representatives of the Japanese embassies wholeheartedly supported the realization of our annual programs and our contacts were regular and very fruitful. Their encouragement was often the decisive factor for the successful outcome of our activities.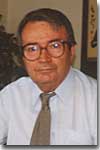 Every year our Association organized exhibitions, most often related to the traditional Japanese arts, such as the exhibition of ukiyo-e woodblock-print reproductions that was shown in 15 Macedonian cities. The Japan Foundation presented us with a significant number of books, mostly in English, and has continued to do so almost every year, thus enriching our library, which started to function as a thematic library in our city. It has become a place where many young people have become familiar with Japanese science, industry, culture, and arts. We also organized several "Weeks of Japanese Culture" that included a number of lectures about Japan, concerts, performances of Japanese choral music by children's choirs in Japanese, and ikebana exhibitions with special arrangements by most renowned Japanese ikebana artists. We also organized special courses in origami in more than 20 primary schools, and in most of them the learning of origami skills has become part of the curriculum. The presentation of Japanese film was more than successful, as was the concert of the Japanese masters of shamisen, which attracted a large audience.

Soon we became aware of the need for teaching Japanese and, having a qualified teacher married to a Macedonian, we decided to offer a course in Japanese. The interest for the course was enormous: every year there were about 150 to 200 candidates for the course, but we could enroll only 25. The course has been going on for 5 years, so you should not be surprised if you are addressed in Japanese when visiting Skopje.

Due to the increasing number of members in our Association, the communication with them became rather difficult, so we decided to start publishing a tri-monthly newsletter called Akebono. In the beginning, we edited it ourselves and it had 32 pages, its circulation being 400 copies; later, the circulation rose to 600 and 800 copies. For one of the most recent issues, 1,150 copies were published, and, bearing in mind the growing Membership, we are willing to increase its circulation up to 1,500 copies. It goes without saying that everything that has been achieved so far is on the basis of voluntary work and contributions.

In closing, I would like to say that Japan is a country of high esteem among the Macedonian people, who recognize it as a country always ready and willing to help the poor, less developed, and developing countries. This is also evident by the fact that in the past few years Japan has become one of the top foreign donors to the Republic of Macedonia.

Due to these activities, seven years ago, the Ministry of Foreign Affairs made the decision to appoint me as an honorary consul of Japan to the Republic of Macedonia, thus passing onto me one of the greatest honors I have received in my life.

By giving me this award, the already received honor has become even greater, for which I wholeheartedly thank you.