Speech by The Berliner Festspiele (Germany)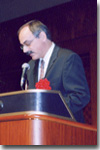 (Gereon Sievernish, Director, Martin-Gropius-Bau)

align="right" style="margin-left:5px" />Dear Mr. President, dear Guests, on behalf of Dr. Sartorious, the Director of the Berliner Festspiele, who asked me to stand in for him at this great event here in Tokyo due to the fifty-first Berliner Festwochen, which is currently taking place, I would like to thank you and the Japan Foundation for this very fine award for our work. The Berliner Festwochen has been in existence for 51 years and for almost the same length of time the Internationale Filmfestspiele Berlin. In all these years, many people have been involved in making the culture of your country accessible to the senses of a large audience in Berlin and in all of Germany.

The cultural emanations of the inhabitants of this, the only world known to us, are perhaps the most important means of understanding available to mankind, of which it ought to make use for precisely this purpose of mutual understanding with great patience. Recognize what is near in the distance and recognize what is distant close at hand—this describes what festivals of a stage of international, or better still intercultural exchange, must do if they wish to do justice to their task. Very early examples of this exchange of ideas, opinions and works of art can be found between Japan and Berlin, that is to say long before the Berliner Festspiele was founded in 1951.

I would like to look a back a little. Fukuzawa Yukichi, who is very famous in Japan, was a member of the official Japanese delegation which visited Europe for the first time in the nineteenth century, also coming to Berlin. In his diary, he writes that on June 28, 1862, he attended an opera in Berlin, probably a choral opera. With this, I also wish to show your country was interested in art and culture in Berlin at a very early stage.

Berlin was then a much sought-after place for Japanese artists in the nineteenth century. Mori Ôgai's works are a compressed reflection of this search for artistic and literary impressions.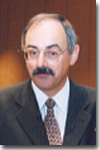 After the terrible Second World War, the 1950s saw the start of a new phase of artistic exchange between Berlin and Japan in which the newly founded Berliner Festspiele as to play an important part. Japanese composers, like my good friend Ishii Maki, studied in Berlin in the fifties, and their works were given their first performances during the Berliner Festwochen. Japanese films were shown almost every year during the international film festival. Our guests were directors, actresses, and actors from your country. The important art forms of traditional Japanese theatre, Kabuki, with the brilliant Ennosuke Ichikawa visited Berlin three times with his ensemble; Noh and Bunraku were guests in Berlin under the aegis of the Berliner Festwochen at intervals which unfortunately were much too great. By the way, this frequently took place in the former Theater Der Freien Volksbuhne, which was renamed "Haus der Berliner Festspiele" on January 1 of this year.

The most important Japanese authors, amongst them Inoue Yasushi, Ôe Kenzaburo, Ôoka Makoto, and Tanikawa Shuntarô participated in literary events of the Berliner Festspiele. Composers were our guests, amongst them Ichiyanagi Toshi, Ishii Maki, and Tôru Takemitsu. Many more than one hundred works of Japanese composers have been performed since the start of the Berliner Festwochen in Berlin, many of them commissioned works and first performances in Europe.

Ensembles of traditional Japanese music played to full houses. One of the highlights of our years of efforts was definitely the Japanese theme of the forty-second Berliner Festwochen in 1993. The exhibition "Japan and Europe, 1543-1929" attracted 200,000 visitors to the Martin-Gropius-Bau. And in September 1993, the Emperor and his wife visited our exhibition, an honor that gave us a great deal of pleasure.

In all our undertakings, we have always had the generous support and encouragement of the Japan Foundation. Without the committed cooperation of your institution, and its collaborators, we would not have been able to hold many of our events. I would like also to thank you for the lasting support of our undertakings through the Ministry of Foreign Affairs and its employees. And very cordial thanks go to our Japanese friends and especially our Japanese artistic friends—in Japan and Berlin—for their good and important advice in all these years of cooperation. I thank you for your attention. Thank you.