Kyoto Office
The Japan Foundation Kyoto Office promotes understanding of Japan, targeting foreign students and researchers (mainly invitees to the Japan Foundation's programs) by taking advantage of networks with major players in the field of international exchange and local international exchange organizations in Kansai region. The Kyoto Office conducts programs such as lectures, seminars and other various programs for dialogues and exchange between foreign students and scholars, and citizens in Japan who are interested in international communications.
In addition, the Kyoto Office offers advice on or supports the activities of international exchange groups in Kansai and projects overseas carried out by local cultural organizations.
As a part of such efforts, the Japan Foundation Kyoto Office presents "An Evening of Noh and Kyogen" to introduce traditional Japanese culture to foreign people every autumn. With the cooperation of the Shigeyama family of Kyogen as well as the Katayama and Kongo families of Noh, this event started in 1974.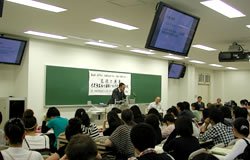 Lecture by Fellows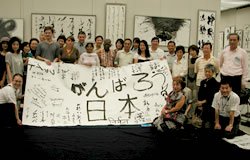 Japanese Culture Experience Program:
Shodo (Japanese Calligraphy)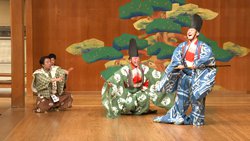 "An Evening of Noh and Kyogen"
Kyogen:
The Two Feudal Lords
by SHIGEYAMA Sengoro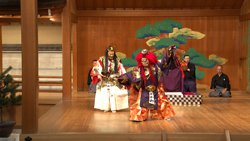 "An Evening of Noh and Kyogen"
Noh:
The Great Sermon
by KATAYAMA Kurouemon
Access
The Japan Foundation Kyoto Office
3rd Floor, Kyoto International Community House
2-1 Torii-cho, Awataguchi,
Sakyo-ku Kyoto, 606-8436 JAPAN 
(6-minute walk from Keage Station of Tozai Subway Line) 
TEL: +81-(0)75-762-1136 FAX: +81-(0)75-762-1137