Message from President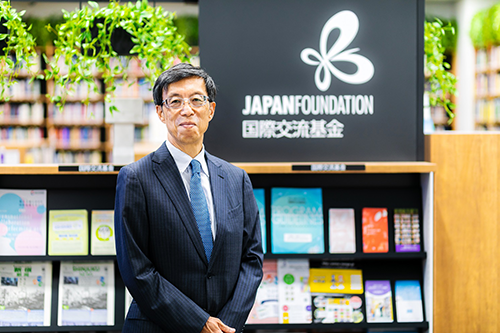 I am pleased to announce my reappointment as President of the Japan Foundation, effective April 1, 2022.
The current pandemic, which has spread worldwide since the beginning of 2020, seems to have subsided to a certain extent along with the progress of vaccinations, and there are some encouraging signs that the free movement of people can be resumed. That being said, however, there are still many countries suffering from a growing number of COVID-19 cases and the situation remains unpredictable. Since I first took office as President in October 2020, I have had very few opportunities to actually visit the sites of cultural exchange projects myself.
While the people around the world have been forced to "stay home" and the international community seems to have become increasingly divided and inward-looking under these rather unusual circumstances, the power of art and culture to heal the sunken hearts of the people is being appreciated anew. It is also clear that the challenges commonly faced by people around the world cannot be effectively addressed without the international community responding in solidarity.
It is precisely in these difficult times that it is important for people to interact with one another across borders, to learn about one another, to share the same experiences, and to strengthen bonds. I believe that international cultural exchange has an irreplaceable value as a tool to aid in achieving this goal. We will continue to seek ways to effectively carry out cultural exchange programs in a variety of field in this ever-changing situation.
Online communication has surely permeated the world and has now become part of our new everyday lives, seemingly obliterating national boundaries and physical distances all at once. The Japan Foundation has also been actively embarking on online project initiatives to bring Japanese culture to people around the world and to maintain international exchange among people across borders, and we are receiving a positive response from regions that were previously out of reach.
At the same time, however, it is also undeniable that the Internet has an inherent risk that divides, and negative feelings among people could be magnified as they move back and forth between the real world and cyberspace and fall into a vicious cycle.
We believe that the warmth and deep empathy that can only be gained through direct interaction among people can prevent such dangers and serve as the foundation for more solid mutual understanding. The Japan Foundation will exert every effort to resume real face-to-face exchange projects, while actively making use of its online initiatives at the same time.
This year marks the 50th anniversary of the Japan Foundation, and our new medium-term plan (FY2022–FY2026) will begin. On this occasion, we shall also renew our organizational structure as of April 1, 2022, with the aim of building a better project implementation structure.
We shall reorganize our three regional centers—the Japan Foundation Center for Global Partnership (CGP), the China Center, and the Asia Center—and establish the Global Partnerships Department. The department aims to promote dialogue and collaborative engagement in important international issues among a wide range of people, including not only intellectuals and experts, but also citizens and youth who will lead the next generation.
The NIHONGO Partners Program, which has been conducted by the Asia Center, will be succeeded by the newly established NIHONGO Partners Program Department.
We shall also establish the Japanese Studies Department, which will be dedicated to providing support to Japanese studies overseas. The department will implement various projects to support Japanese research institutes and researchers in other countries, as well as to promote a deeper understanding of Japanese culture among people abroad.
We are determined to tackle these issues mentioned above and pursue the irreplaceable possibility of cultural exchange in most effective and creative manner to meet the needs of the new era. To that end, I would very much appreciate your continued assistance in, and support of, our endeavors.
April 2022
UMEMOTO Kazuyoshi
President
The Japan Foundation