Library
The Japan Foundation Library develops its collection of books and other materials on Japan, international cultural exchange and publication by the Japan Foundation to provide extensive information services. The Library can be used by any member of the public.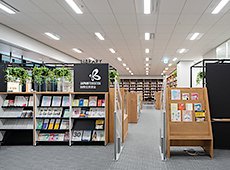 What's New
【Expanded library hours (starting in November)】

The Japan Foundation Library will open three times a week – Monday, Wednesday, and Thursday – starting in November. Visits will be by appointment only as we continue to take preventive measures against COVID-19 (see below).

【The JF Library now offers the Books-by-Mail service】

The Japan Foundation Library users with active library cards, who reside in Japan, can now borrow books by mail. Please see "Library Guide" for details on how to use the service.
November 2, 2020
Opening Hours
Mondays, Wednesdays, and Thursdays (except for national holidays): 1:30 p.m. - 5:30 p.m.
* By appointment only (with a one-hour appointment slot, 5 persons at a time)
How to make an appointment
1.

Please send us an email (Lib@jpf.go.jp) with the following information, no later than noon of the day (weekday) before your desired visiting date. We accept appointments up to 2 weeks ahead of time.
(When sending an e-mail, please replace the full-width "@" character with a half-width character.)

1)

Your name

2)

Desired date and time of your appointment
<Available appointment slots> Mondays, Wednesdays, and Thursdays:
(1) 1:30 p.m. - 2:30 p.m. / (2) 2:30 p.m. - 3:30 p.m. / (3) 3:30 p.m. - 4:30 p.m. / (4) 4:30 p.m. - 5:30 p.m.

3)

Name (s) of accompanying persons if applicable

2.

We will send you a confirmation email in return.

3.

Please bring the confirmation email with you when you visit.
<Privacy Policy>
The information you provide us – name, contact, and visiting date and time – will only be used for the following purposes:
To provide library services
If a COVID-19 case is found at our facility, we may contact you and/or provide the information to health centers, medical institutions, etc.
To all visitors
We conduct temperature checks upon your arrival.
All visitors must wear masks while in the Library.
Sanitize your hands before and after using library materials and devices.
Maintain a distance of 2 meters (6 feet) from others.
Refrain from eating and drinking in the Library.
Face-to-face service at library counters is limited to 10 minutes. Reference services are also available via email (Lib@jpf.go.jp).
(When sending an e-mail, please replace the full-width "@" character with a half-width character.)
Our library materials can be searched online with the JF Libraries' Online Public Access Catalogue (OPAC). We recommend you to search in the OPAC prior to your visit so that you can utilize your time effectively in the Library.
Please do not forget to bring your ID card showing your current residential address if you want to borrow books. We will issue a library card.
Visitors with any of the following conditions are restricted from entering the Library:
Having fever of 37.5ºC or higher
Having flu-like symptoms such as cough, sore throat, etc., or are not feeling well
Those who have returned or came from a country/area affected by COVID-19 in the past 14 days
Those who have been exposed to anyone known to have tested positive for COVID-19
Without a mask
At the Library, you can expect:
Staff members take their temperature and wear masks.
Vinyl curtains are installed at counters.
Alcohol-based hand sanitizer is made available in the Library.
The facility is thoroughly sanitized and ventilated.
The Reading Room is arranged to meet social distancing requirements.
Returned books are quarantined for a minimum of 72 hours.
Thank you for your cooperation to keep all visitors safe during this time as we continually evaluate our services in relation to the COVID-19 situation.
Outline
Social Media Official Account

Library Facebook Page

Location
1-6-4 Yotsuya, Shinjuku-ku, Tokyo 160-0004, YOTSUYA CRUCE 1F Access
TEL/FAX
TEL +81-(0)3-5369-6086 / FAX +81-(0)3-5369-6044
Contact
E-mail: Lib@jpf.go.jp
(When sending an e-mail, please enter a half-width character "@" instead of a full-width character "@.")