Library
The Japan Foundation Library develops its collection of books and other materials on Japan, international cultural exchange and publication by the Japan Foundation to provide extensive information services. The Library can be used by any member of the public.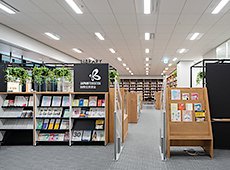 What's New
【Relocation and Reopening Notice】

The Japan Foundation Library will reopen to the public on Monday, August 24, 2020, at its new location:
1-6-4 Yotsuya, Shinjuku-ku, Tokyo 160-0004, YOTSUYA CRUCE 1F Access

※

The opening day/opening hours/services may change, depending on the situation with the spread of the coronavirus infection in the future. Please check our homepage before visiting us.
December 23, 2019
Outline
Library Hours
Monday-Friday 10:00 - 18:00
Closed
Saturdays, Sundays, national holidays, The last day of every month, New Year's holidays, and library inventory period
( ) indicates the Library is closed.
Social Media Official Account

Library Facebook Page

Location
1-6-4 Yotsuya, Shinjuku-ku, Tokyo 160-0004, YOTSUYA CRUCE 1F Access
TEL/FAX
TEL +81-(0)3-5369-6086 / FAX +81-(0)3-5369-6044
Contact
E-mail: Lib@jpf.go.jp
(When sending an e-mail, please enter a half-width character "@" instead of a full-width character "@.")