The Japan Foundation Library (Tokyo)
The Japan Foundation Library develops its collection of books and other materials on Japan, international cultural exchange and publication by the Japan Foundation to provide extensive information services. The Library can be used by any member of the public.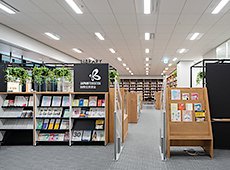 October 2, 2023

September 1, 2023

August 1, 2023
【Notice of Library Closure for Inventory (October 30-31)】
The Japan Foundation Library (Tokyo) will be closed on the following dates for inventory.
■ Closed dates: October 30 (Monday) & 31 (Tuesday)
We apologize for any inconvenience and appreciate your understanding.
Book returns:
You may still use our book return box while we are closed for inventory.
Book return box usage hours: Weekdays 9:30 am to 5:45 pm
Library Opening Hours
Monday - Friday (except national holidays): 1 p.m. - 6 p.m.
* The library opening hours may change at short notice. Please check the Calendar for the latest library hours.
*

Inquiries by phone can be received from 9:30 onwards.

*

From 10 a.m. to 1 p.m., we accommodate prearranged visits for use of reference services and library materials in our collection as well as school visits.
<For those who are unable to visit during library hours>
*

Please contact us if you wish to use the materials in our collection but are unable to come during library hours.

*

Reference services are also available via email (Lib@jpf.go.jp).
(When sending an e-mail, please replace the full-width "@" character with a half-width character.)

*

We also encourage you to try borrowing books by postal mail.
To all visitors
Admission will be restricted as necessary when crowded.
While the decision to wear a mask will be left to the individual starting March 13, be aware that wearing a mask is effective in protecting against infection not only for yourself but the elderly, people who are pregnant, and others at high risk of developing serious disease. During crowded periods, we ask that you wear a mask and mind your manners when coughing.
Sanitize your hands before and after using library materials and devices.
Refrain from eating and drinking in the Library.
Headphone rentals have been suspended. Those who wish to use the audiovisual materials are asked to bring earphones or headphones (wired).
Please refrain from visiting if you have a fever of 37.5 degrees Celsius or higher, are experiencing cold-like symptoms such as coughing or sore throat, or are feeling ill.
At the Library, you can expect:
Staff members wear masks.
Vinyl curtains are installed at counters.
Alcohol-based hand sanitizer is made available in the Library.
The facility is thoroughly sanitized and ventilated.
The Reading Room is arranged to meet social distancing requirements.
Thank you for your cooperation in keeping all visitors safe.
Outline
Social Media Official Account
Location
1-6-4 Yotsuya, Shinjuku-ku, Tokyo 160-0004, YOTSUYA CRUCE 1F Access
TEL/FAX
TEL +81-(0)3-5369-6086 / FAX +81-(0)3-5369-6044
Contact
E-mail: Lib@jpf.go.jp
(When sending an e-mail, please enter a half-width character "@" instead of a full-width character "@.")