Collection
Collection Details
Special collection
JF-related clippings
These clippings include newspaper/journal articles relating to the JF and international cultural exchange.
Kokusai Bunka Shinkokai (KBS) Archives
Library holds documents and works made by Kokusai Bunka Shinkokai, which was founded in 1934.
Kokusai Bunka Shinkokai (KBS) Archives
Crêpe

-Paper books (Chirimen-bon)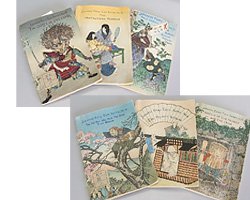 Crêpe-paper books are made of Japanese paper with a finely-wrinkled surface like crêpe, and produced mainly in the Meiji through early Showa periods. With pictures in sophisticated colors by artists from the periods, these crêpe-paper books featuring Japanese culture were loved by foreigners and many were shipped overseas as gifts. The Library possesses over 100 items of these special books.
Crêpe-Paper Books List (PDF:500KB)
Adobe Reader software is available for free download from the Adobe Systems web site. To download and install Adobe Reader,
click on this link

and follow the instructions given for your operating system.
[Contact Us]
The Japan Foundation
Library
Tel: +81-(0)3-5369-6086 Fax: +81-(0)3-5369-6044
E-mail: Lib@jpf.go.jp
(When sending an e-mail, please replace the full-width "@" character with a half-width character.)