Japan Pavilion at the 16th International Architecture Exhibtion
?La Biennale di Venezia

Architectural Ethnography

, the exhibition aims to develop the discussion about our society in the future

May 10, 2018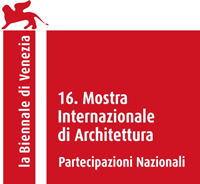 The Japan Foundation will participate in the 16th International Architecture Exhibition?La Biennale di Venezia, which will take place from May 26 to November 26, 2018, to organize the Japan Pavilion.
Architectural Ethnography, Japan Pavilion's exhibition curated by a team of Momoyo Kaijima, with Laurent Stalder and Yu Iseki will showcase 42 exhibitors ranging from university design studios, architectural offices to contemporary artistic practices from all over the world.
For further information, please contact us as indicated below.
Related Materials
Related page
Contact
Japan Pavilion Commissioner/General Inquiries
The Japan Foundation Arts and Culture Dept.
Person in Charge: Ohira (Mr.), Sato (Mr.)
Tel: +81-(0)3-5369-6063 / Fax: +81-(0)3-5369-6038
E-mail: venezia@jpf.go.jp
Press Inquiries / Press Pictures
Yoshiko Nawa (Ms.)
E-mail: venezia@jpf.go.jp
Press Inquiries
The Japan Foudation Communication Center
Person in Charge: Kumakura (Ms.)
Tel: +81-(0)3-5369-6075 / Fax: +81-(0)3-5369-6044
E-mail: press@jpf.go.jp
(When sending an e-mail, please replace the full-width "@" character with a half-width "@" character.)