[Announcement]70 New Works to be Added to


STAGE BEYOND BORDERS


Stage Performance Online Distribution Project Linking Japan's Performing Arts with the World
October 11 2021
Since February 2021, the Japan Foundation has started "STAGE BEYOND BORDERS ? Selection of Japanese Performances," a project to distribute Japan's outstanding stage performances. Since the commencement of the project, they have been watched in about 50 countries, with over 720,000 views, receiving high acclaim from viewers.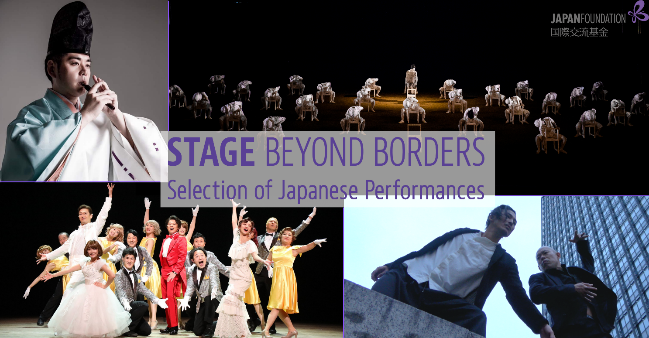 (c) Ayami Fukushi (c) KUNITA Shigeru (c) INOUE Yoshikazu
To date, 18 titles are made available with multilingual subtitles in three fields: contemporary theater, dance performances, and traditional arts. We are pleased to announce that 70 more works will be added.
Of the 70 upcoming works, 50 will be transmitted with the cooperation of the Emergency Performing Arts Archives and Digital Theater Support Project (EPAD). They include fascinating works such as NODA Hideki's play, Red Demon, a theater produced by HIRATA Oriza, Tokyo Notes International version, and a performance by contact Gonzo, "xapaxnannan: Our future sports."
As a new initiative, the lineup of works is targeting the post-COVID world, with the following two points in mind:
Drawing attention to promising Japanese artists expected to be active overseas, we will showcase their new works so they are easily accessed on YouTube from people around the world.
In addition to traditional Japanese performing arts such as Gagaku and Ryukyu Buyo, we will introduce a wide variety of folk performing arts from different regions, such as Kagura and Traditional Puppet Theater, to convey the appeal of Japan's diverse regional performing arts.
The new works will be transmitted with multi-lingual subtitles in five languages. They will be made available free of charge on Japan Foundation's official YouTube channel.
Related Materials
Contact
Press Inquiries
Kumakura (Ms.), Harada (Ms.), Communication Center, The Japan Foundation
Tel: +81-(0)3-5369-6075 / Fax: +81-(0)3-5369-6044
E-mail: press@jpf.go.jp
(When sending an e-mail, please replace the full-width "@" character with a half-width "@" character.)