[Announcement]The Japan Foundation 50th Anniversary Website and Booklet
"Weaving Ties with the World for 50 Years and Onward"

Looking back at postwar Japan's history of cultural exchange, and considering its future
October 27, 2022
On October 2, 2022, the Japan Foundation (JF) celebrated its 50th anniversary. To commemorate this occasion, we have launched a special website, "Weaving Ties with the World for 50 Years and Onward," and have also published a 50th anniversary booklet of the same title. The URLs for the English and Japanese versions of each are below.
50th anniversary website:

The Japan Foundation 50th Anniversary Website(English)
The Japan Foundation 50th Anniversary Website(Japanese)

50th anniversary booklet: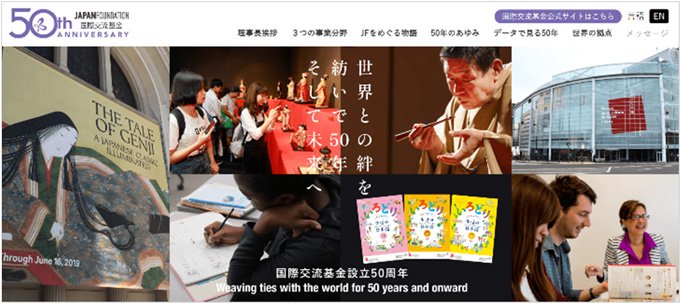 This website highlights the last half-century of JF's activities as Japan's sole public organization dedicated to the comprehensive promotion of international cultural exchange. The content includes interviews with individuals who share their stories of working around the world, and reflects the cultural relationships that have been created between Japan, in its economic growth period and beyond, and the rest of the world.
Related Materials
Contact
Press Inquiries
Kumakura (Ms.), Harada (Ms.), Communication Center, The Japan Foundation
Tel: +81-(0)3-5369-6075 / Fax: +81-(0)3-5369-6044
E-mail: press@jpf.go.jp
(When sending an e-mail, please replace the full-width "@" character with a half-width "@" character.)