Annual Report 2010/2011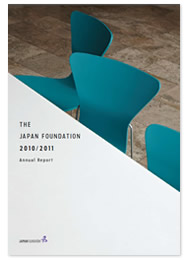 A total of 60 pages (PDF:4,59MB)
The Japan Foundation Annual Report 2010/2011 has been issued.
It introduces the Japan Foundation's global cultural exchange activities of Fiscal Year 2010/2011, featuring messages from the world on the occasion of the Great East Japan Earthquake as a cover story.
[ Contents ]
Appendix
Adobe Reader software is available for free download from the Adobe Systems web site. To download and install Adobe Reader,
click on this link

and follow the instructions given for your operating system.