An Evening of Noh and Kyogen 2019
The Japan Foundation Kyoto Office organizes "An Evening of Noh and Kyogen" to give an opportunity to experience Japanese traditional culture to people from around the world, including students and researchers.
An Evening of Noh and Kyogen 2019
Date
Tuesday, November 26, 2019 from 6:30 p.m.
(Doors will open at 6:00 p.m.)
Venue
Kongo Noh Theatre (karasuma-nakadachiuri, kamigyo-ku, Kyoto)
Tel: +81-(0)75-441-7222
Flyer: An Evening of Noh and Kyogen 2019 (PDF:507KB)
Program

<Kyogen>
KAZUMO (Wrestling with a Mosquito)
Featuring: Shime Shigeyama

<Noh>
AYA NO TSUZUMI (The Damask Drum)
Featuring: Hisanori Kongo

Organizers
The Japan Foundation Kyoto Office
The Japan Foundation Japanese Language Institute, Kansai
Collaboration
The Kongo Noh Theatre Foundation
Endorsement
Kyoto Prefecture, Kyoto City, Kyoto City Tourist Association, The Kyoto Shimbun, Kyoto Arts and Culture Foundation
Admission Fees
(all free seating)
¥3,500 (students: ¥2,000)
*Group discount (20 people or more)
¥3,150 (students: ¥1,800)
Tickets will be available from Friday, September 20 at

Kongo Noh Theatre
(karasuma-nakadachiuri, kamigyo-ku, Kyoto)
Tel: +81-(0)75-441-7222
The Japan Foundation Kyoto Office
(3rd Floor, Kyoto International Community House2-1 Torii-cho, Awataguchi, Sakyo-ku, Kyoto)
Tel: +81-(0)75-762-1136
Programme Synopsis
Kyogen:

KAZUMŌ (Wrestling with a Mosquito)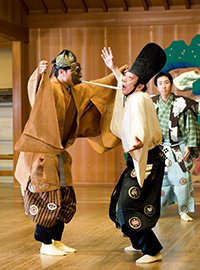 Synopsis:
A Daimyō sends Tarō Kaja out to find a new servant. Tarō Kaja meets a Man on the road, and brings him home. The new Man says he is a good at sumō wrestling, so the Daimyō challenges him to a mach. The new Servant is actually the Spilit of a Mosquito, and in the first round, he stings the Daimyō on the nose. The Daimyō thus discovers his true identity, so he brings out a huge fan, which he uses as a fly swatter, and wins the match.
In the Ōkura script, the Daimyō specifically orders Tarō Kaja to hire a sumō wrestler. In the latter part of the play, the Daimyō has Tarō Kaja use the fan, and he himself pulls the mosquito's stinger out, and wins the match. The Mosquito goes off buzzing sadly.
<From A GUIDE TO KYOGEN by Don Kenny, Hinoki Shoten, 1979>
Noh:

AYA NO TSUZUMI (The Damask Drum)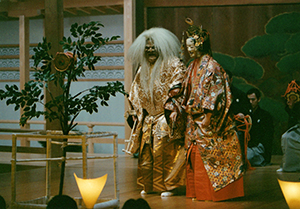 Synopsis:
An old gardener, who has fallen in love with a lady of the Court, is told that if he can make the sound of a drum in the grounds reach her, she will let him see her again. He gladly strikes the drum but no sound comes, for it is covered only with damask. Overcome with anger and despair, he drowns himself in the lake in the palace grounds. His angry ghost then appears and gives vent to its feelings of anger against the lady.
(Translations by Peri and Waley.)
<From A GUIDE TO NŌ by P. G. O'neill, Hinoki Shoten, 1981>
Profile
Shime Shigeyama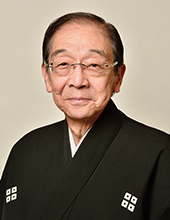 Born in 1947 as the second son of Shigeyama Sensaku Ⅳ, his original name was Shingo.
After his first appearance on stage as a child in Narihira Mochi (Narihira's Rice-cakes) at the age of four, he began appearing in a variety of productions, including Sanbaso (Divine Dance), Tsurigitsune (The Fox Hunter), Hanago (A Man and His Wife), and Tanuki-no-haratsuzumi (The Raccoon-dog's Belly Drum). In 1976 he helped establish the Hanagata Kyogen Kai association of young Kyogen actors as a base for his and his fellow actors' activities, where they have been actively involved in performing not only the classics, but also revivals of "secret pieces" and new works of kyogen. He is also an active participant in efforts to introduce overseas audiences to kyogen as one of Japan's traditional performing arts. In 2000, he held workshops in Paris at the invitation of ARTA (Association de Recherche des Traditions de l'Acteur). In the Czech Republic, he launched the Small Kyogen Theatre (MDK, Nagomi Kyogenkai Czech). He is also widely active as an instructor, including as a teacher at the Nabari Children's Kyogen Group.
In 1995, he inherited a performing name to become Shigeyama Shime Ⅱ, and in 2011 was honored as a Kyoto City Person of Cultural Merit.
We regret to inform you that Shigeyama Sensaku, the Okura-school kyogen artist who was scheduled for this performance, passed away on September 21, 2019.
Recalling his life of achievement, we offer our heartfelt prayers for the repose of his soul.
On November 26, the Okura-school kyogen artist Shigeyama Shime will perform in his stead.
Hisanori Kongo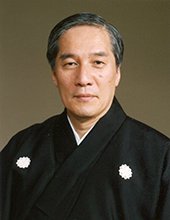 Born in Kyoto in 1951 as the eldest son of Iwao Kongo, the 25th-generation head of the lineage, Hisanori trained under his father from an early age. In September 1998, he became the 26th-generation head of the Kongo school of Noh, and in May 2005 oversaw the completion of the relocation of the Kongo Noh Theatre to the west side of Kyoto Imperial Palace. He has been designated by the Japanese government as a Holder of Important Intangible Cultural Property (collective recognition).
Along with "Mai-Kongo" (Dance Kongo), an ornate and dynamic style of acting unique to the Kongo school, he also specializes in the graceful and elegant style known as "Kyo-Kongo" (Kyoto-style Kongo) and is the only head of any of the five shite-kata schools of Noh to be based in the Kansai area. Beginning with his turn as director of the troupe that staged the Kongo school's inaugural overseas performances in Canada and the United States, he has a wealth of overseas performing experience in countries such as Italy, France, Spain, Portugal, and Russia.
A recipient of the Kyoto Municipal New Artist Award and the Kyoto Prefectural Culture Award's New Artist Prize and Distinguished Service Prize, he has also been honored with a Cultural Merit Awardby the city of Kyoto. He is the recipient of the 67th Minister of Education, Culture, Sports, Science and Technology's Art Encouragement Prize and in 2018 was awarded the Medal with Purple Ribbon, which is conferred by the Government of Japan to individuals who have contributed to academic and artistic developments.
As well as serving as President of the Kongo Nohgakudo Foundation, President of the Kongokai, and managing director of the Nihon Nohgaku-kai, he is also a visiting professor at the Kyoto City University of Arts and the author of Kongo-ke no men [Masks of the Kongo Lineage] and Kongo soke no noh-men to noh-shozoku [Noh Masks and Noh Costumes of the Kongo Lineage].
[Contact Us]
The Japan Foundation Kyoto Office
(3rd Floor, Kyoto International Community House 2-1 Torii-cho, Awataguchi, Sakyo-ku, Kyoto)
Tel: +81-(0)75-762-1136