LIGHT UP NIPPON: Introducing Young People's Challenge to Energize the Devastated Areas in Tohoku Region through Fireworks, a Japanese Traditional Art Form with a Long History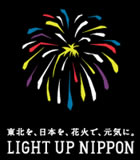 On August 11, 2011 (exactly 5 months after the Great East Japan Earthquake), thousands of fireworks were launched into the sky simultaneously at 10 locations in the devastated areas along the Tohoku coast to commemorate the victims and energize the region and the entire Japan.
The Japan Foundation,in collaboration with LIGHT UP NIPPON Executive Committee, had produced a documentary film that featured challenges by the young Japanese people supporting Tohoku's recovery for the purpose of presenting a vivid image of today's young generation in Japan. The documentary was screened 127 times in total in 79 cities of 47 countries around the world in fiscal year 2012.
In addition, ceremonies to launch requiem fireworks joined by the local people were held in India, Mexico, Malaysia and Korea on March 11, 2012, the first anniversary of the Great East Japan Earthquake. In India, Korea and Mexico, Symposiums and discussion with the local people were conducted on the occasion of the documentary film screening, attended by Yoshitake Takada, the representative of the LIGHT UP NIPPON Executive Committee. The documentary will be screened continuously at such as Japanese-language educational institutions and Japanese studies institutions around the globe.
LIGHT UP NIPPON has been held on August 11 every year since 2011.
For the latest information, please see LIGHT UP NIPPON Executive Committee official website  (http://lightupnippon.jp/)

" LIGHT UP NIPPON" Documentary (28 minutes with English narration and subtitles)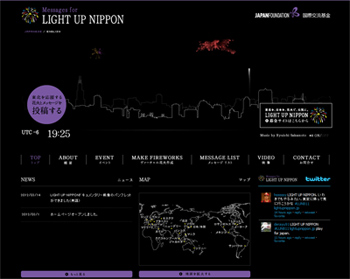 Creative firework illustrations and messages to encourage Tohoku were posted from around the world.
Messages for LIGHT UP NIPPON
URL:http://www.messagesforlightupnippon.jp (In Japanese)
URL:http://www.messagesforlightupnippon.jp/en/ (In English)
【Contact】
The Japan Foundation, Arts and Culture Dept., Americas Section
Person in charge: Susa E-mail
TEL:03-5369-6061 FAX:03-5369-6038